The H're ethnic group has resided in the Truong Son Mountain range and Central Highlands region for a long time. Most H're people earn a living by farming in terraced fields. They have preserved many traditional identities, ceremonies, festivals, and a variety of musical instruments.
1. Historical Origin
The H're ethnic group has resided in the Truong Son Mountain range and Central Highlands region for a long time. Some scholars believe that the origin of the Hre ethnic group may be related to the flood and migration process.
The H're ethnic group has its own name, called Hre. They also have other names such as Cham Re, Chom, Thuong Ba To, Moi Luy, Moi Son Phong, Moi Da Vang, Cham Quang Ngai, Moi Chom, Re, and Man Thach Bich.
2. Geographical distribution
The H're ethnic community live mainly in the western area of Quang Ngai Province (in Son Ha, Ba To and Minh Long districts) and Binh Dinh Province (in An Lao District), and in Kon Tum Province (Kon Plong District).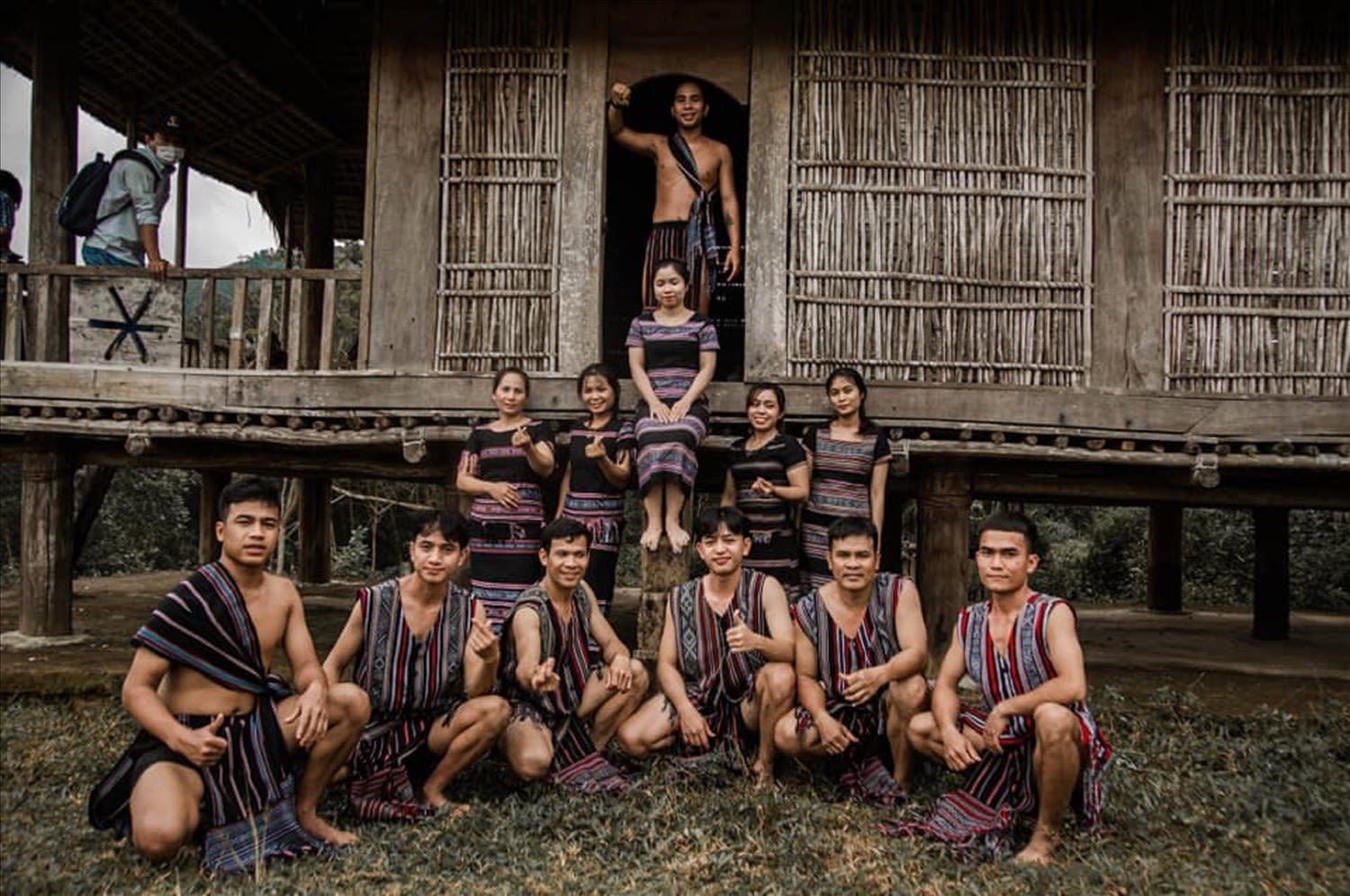 3. Population, language
- Population: According to the 2019 Survey of 53 ethnic minorities dated April 1, 2019, there are 149,460 H're ethnic people in Vietnam, including 74,017 men and 75,443 women. The household size is 3.6 people per household. 92.5% of the population lives in rural areas.
- Language: The H're ethnic language belongs to the Mon Khmer language group (Southern Asian language family). Before 1975, the H're people had a writing system using Latin script. This writing system was once widely used, but it has since faded away.
4. Main features
- Traditional social institutions: The traditional society of the Hre operated according to customary laws with non-governmental institutions, in which the village's elders, known as 'ca ra' or 'kan pley', play an important role. In H're people's society is sharply divided along class lines, and its servitude system - particularly with servitude resulting in slaves because of debt - is somewhat harsher than those in other ethnic groups. The land grabbing and concentration (which is the establishment of the power of a few individuals) has been relatively developed. However, relations in the village still reflect the spirit of communal community.
Since 1986 up, the above social management model has been replaced by a local government apparatus, headed by the village head who is assigned by the people's committee of the commune.
- Housing: The traditional house of the H're is a long house on stilt. Houses in the village are built across the slope of the land.
- Costumes: H're ethnic men often wear loincloths, which are 4-5m long, with 20cm-long tassels at the top of the loincloth. H're ethnic women wear a five-flapped dress, buttoned on the right side.
- Religion and belief: In their traditional spiritual world, the H're people believe in the existence of the soul, they believe in 'goong kieesk chok' (the village of ghosts), where the souls of the dead reside. They often worship the Yang gods with the belief that Yangs decide many problems in their life, such as harvest, and people's health condition. The highest Yang is the god of heaven. There are many other Yangs such as the gods of the earth and water. H're people also worship their ancestors.
- Dite: Rice is the main food of the Hre people, on Tet holidays they also have sticky rice. They like drinking 'can' wine (wine drunk out of a jar through long straws), and homemade wine with yeast leaves. H're men and women regularly smoke and eat betel nut.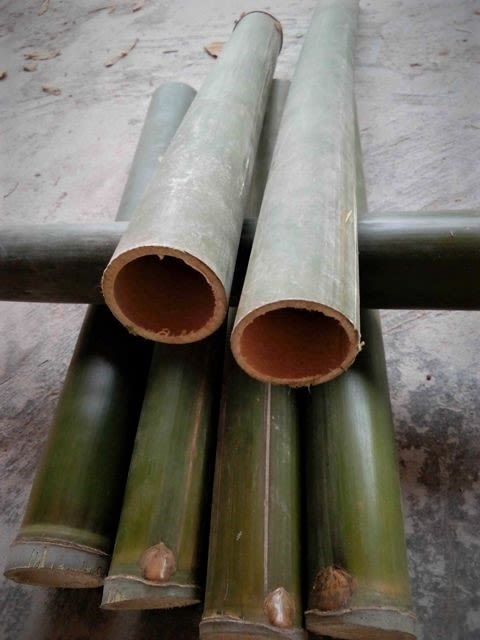 - Musical instruments: The commonly used musical instruments of the H're people is the set of three gongs, drum, and musical instruments made from bamboo and gourds. H're women play a set of two bamboo tubes.
- Education: According to the survey on 53 ethnic minority groups dated April 1, 2019, the rate of H're ethnic people aged 15 years and over who can read and write is at 67.8% while the net attendance rate for children of primary school age is 100.6%, junior secondary school age is 90.1%, and senior secondary school age is 51.4%. The percentage of out-of-school children is 13.8%.
- Marriage: The H're ethnic group follows intra-racial marriage. People of the same clan, no matter how far their relations are, are not allowed to marry each other.
- Festivals: The H're have many rituals and festivals such as farming rituals, rituals related to the rice agricultural cycle, ancestral worship (called 'vaha'), harvest festival, New Year festival (called 'htend'), buffalo stabbing festival, as well as rites related to human life cycle. In agricultural rituals, the worship of the rice god Yeang Sarì is the most important festival.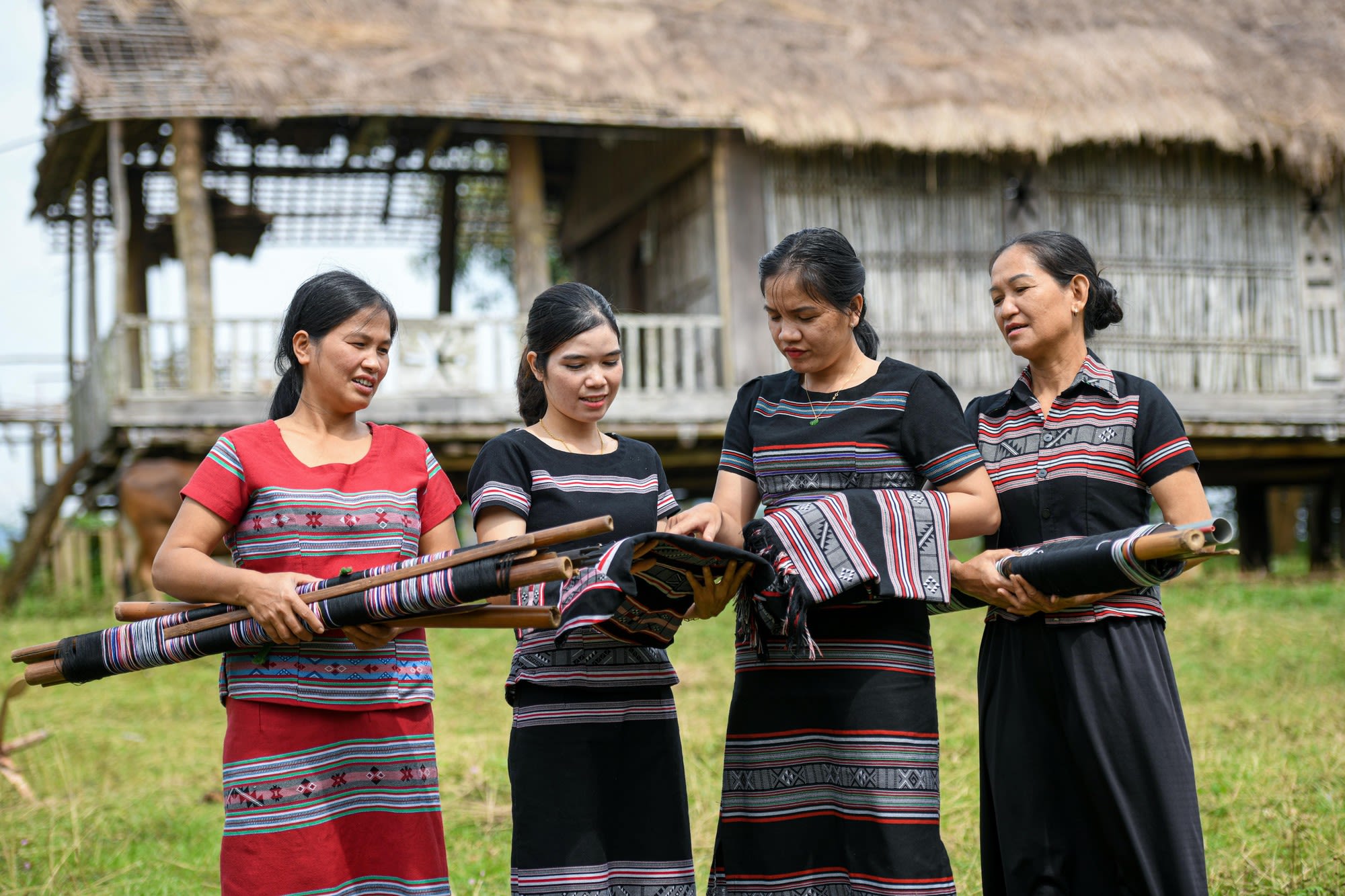 H're ethnic women. (Photo: Thanh Dat)
H're ethnic women. (Photo: Thanh Dat)
5. Economic conditions
Most of the H're people earn living from rice cultivation. They often practice cultivation methods of spreading - burning - pruning, with simple farm tools. When harvesting, they use their hands to thresh rice. The farming method of the H're people is similar to those loving in the South Central region (using buffaloes to draw ploughs, sow and transplanting, using sickle to reap rice).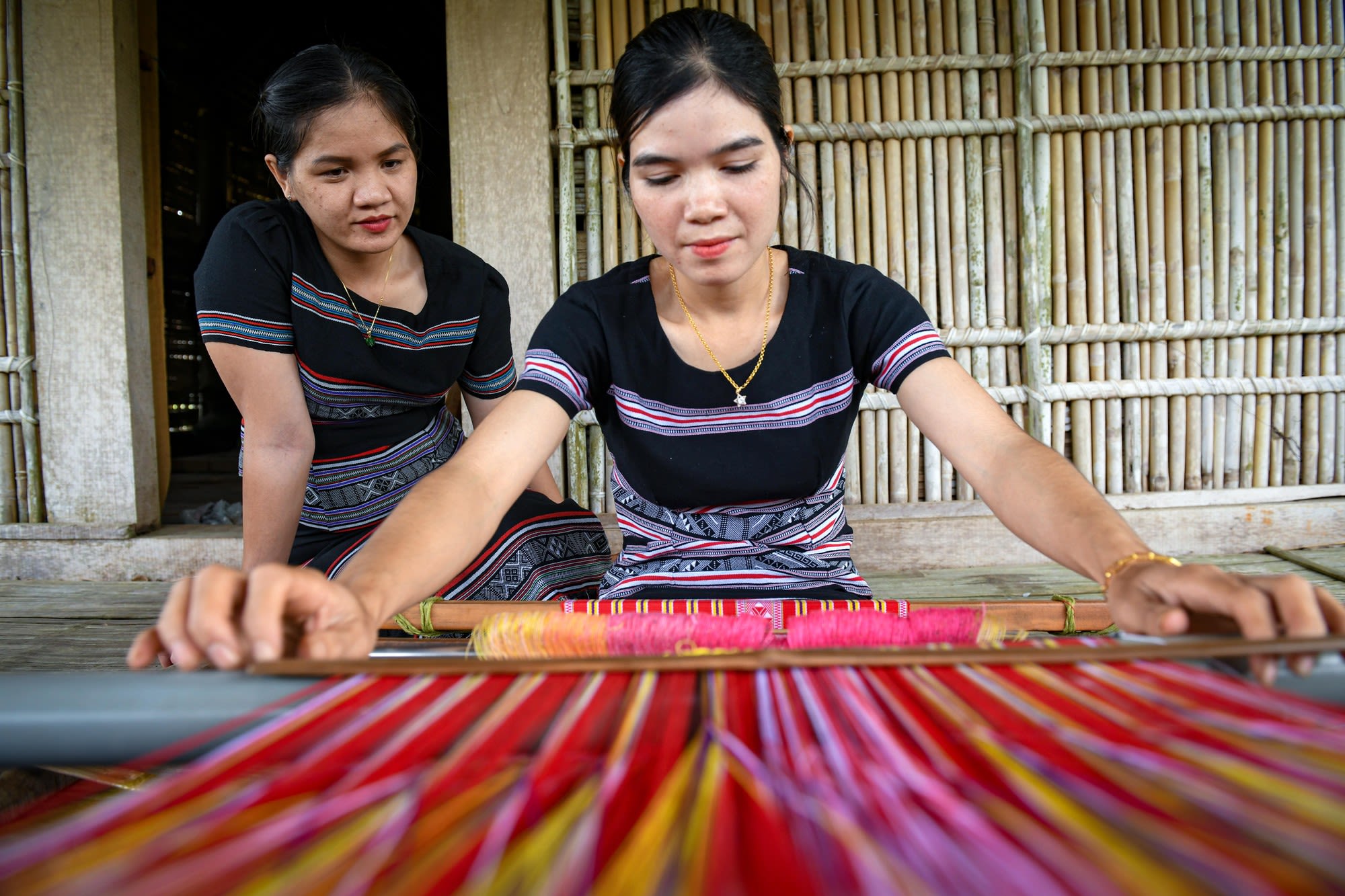 H're households also raise buffaloes, pigs, dogs, and chickens, and practice gathering and hunting to increase their sources of food. The H're are familiar with knitting and weaving, but these crafts are not well-developed, with weaving practiced in especially few places. They exchange goods in the form of direct barter system.
According to the survey of 53 ethnic minorities dated April 1, 2019, the unemployment rate is 1.91%; the percentage of trained workers with certificates is 7.2%; the percentage of the labour force involved in non-agricultural activities is 10.7%; the percentage of the labour force at management level or high and middle-level technical jobs is 2%. The poverty rate in H're ethnic community is 30.3%; the rate of near-poor households is 12.7%. The percentage of households getting access to clean water is 80.2%, and the percentage of households getting access to electricity is 92.6%