Kham Thien bombing 50 years on
Resurrection from ruins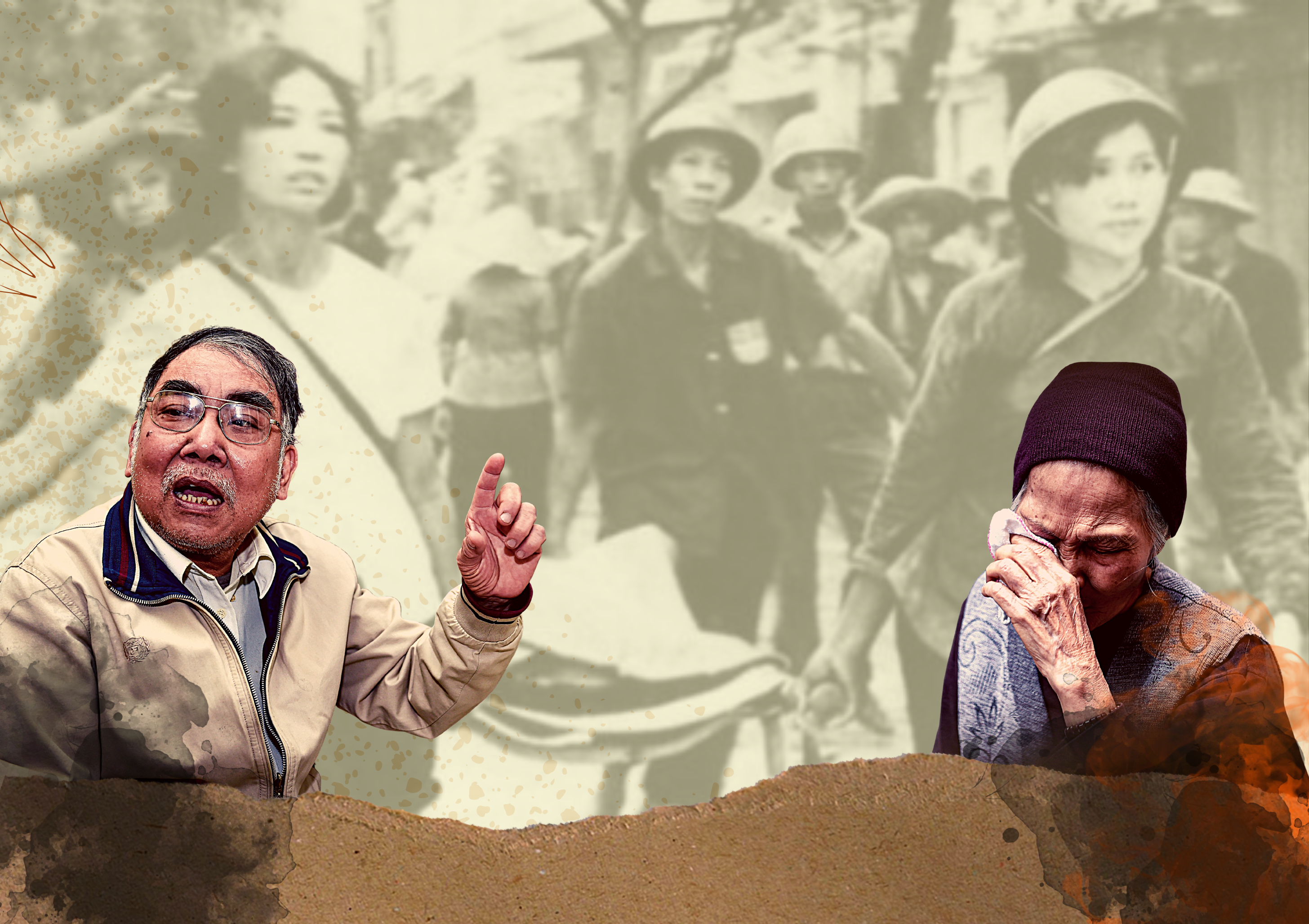 Five decades have passed and although the scar of the bombing of Kham Thien remains in people's hearts, a new life has been truly brought back from ground zero.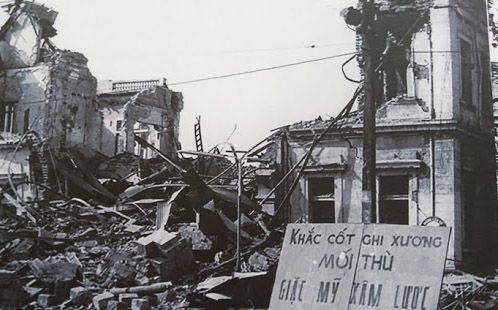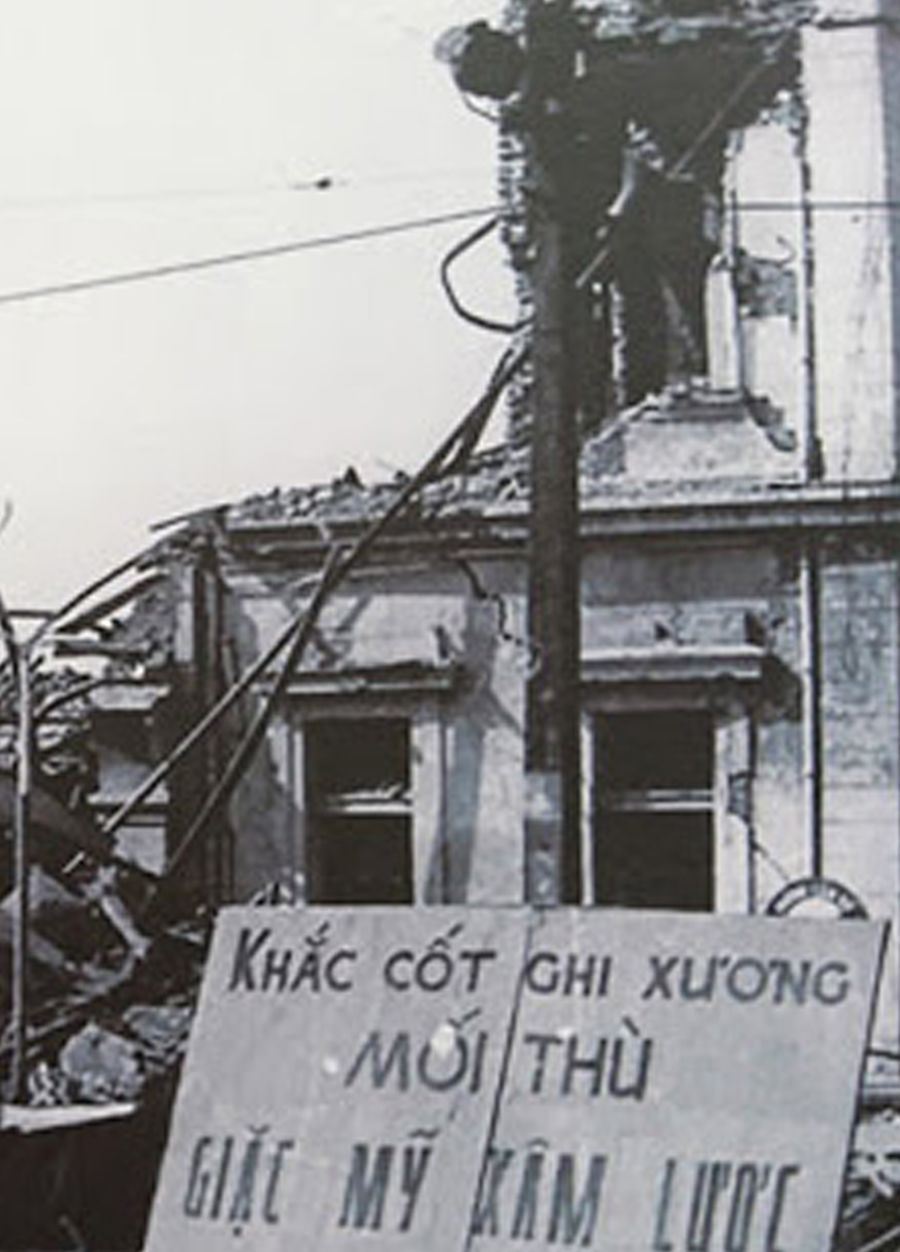 On December 20, 1972, upon news that the US was planning to relaunch air raids on Hanoi, Hai Phong and some other places in northern Vietnam, an urgent evacuation order was issued. The usually busy streets suddenly became completely deserted. Makeshift artillery mounds, fortifications, trenches and shelters quickly appeared across Hanoi, turning the capital city into a large artillery battlefield for the following dozen days and nights.
With Christmas approaching and having heard that the Americans would stop bombing to celebrate the occasion, residents returned home one after another, partly because the Lunar New Year was less than a month away and partly because they did not want to be away from their loved ones. No one could imagine that a catastrophe was coming dozens of hours later.
Recalling that moment, Le Dinh Giat, one of the few witnesses who has remained in Kham Thien for the past 50 years, said "At that time, when the signature tune of the Late-night Story Reading programme had just ended, we heard the warning sirens wailing repeatedly. The B-52s rumbled over the sky. My mum rushed home from Kham Thien Market, urging my family to get into the bomb shelter."
All at once, a neighbourhood of poor workers that was usually in darkness at night became dazzled as anti-aircraft artillery lit the sky like falling stars. Everyone in Giat's family hurried to the underground shelter right in front of their home. As soon as he had told everyone to keep their shoulders at right angles to the shelter wall and their two hands on their knees to protect important body parts just in case, Giat began to feel dizzy and wobbly.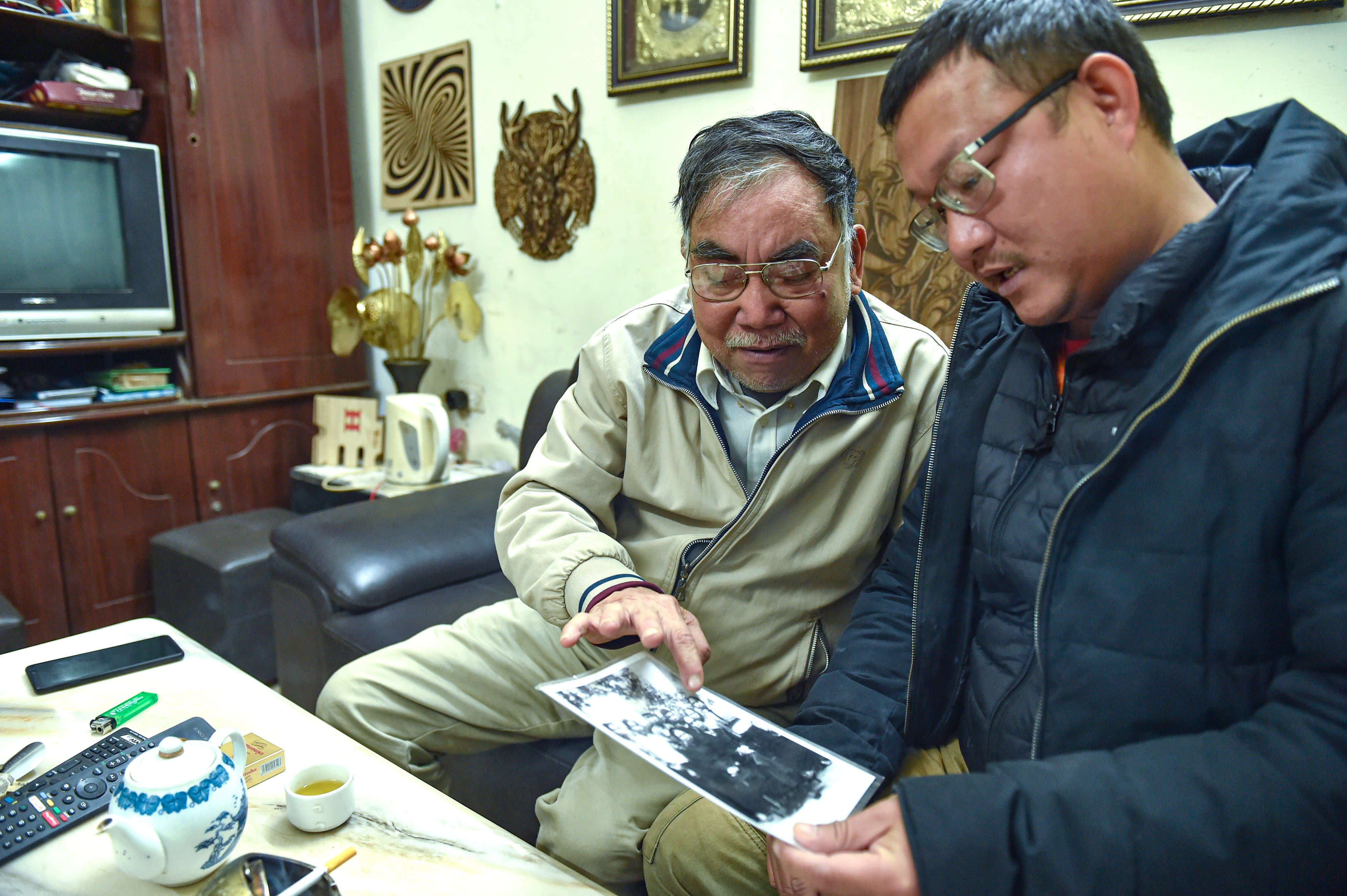 At that moment, from Hang Bot side, Chu Chi Thanh, who was working as a photojournalist for the Vietnam News Agency, was also disturbed by the whistles. Rushing down the tunnel, he heard the earth shake violently. Even though he had survived a lot of bombs and bullets, Mr. Thanh's whole body was still shaking, and sweat was pouring out in the middle of the winter night. He was thinking about the worst that could happen to him…
Those on duty from far away from Kham Thien, soon after, saw all six blocks near Hang Co Station burst into red flames.
"As the bombs fell, the dark bunker shook violently. I was flipped upside down again and again. At that time, I did not think much, I could only clasp my hands to my knees. A moment later, silence returned. When I tried to raise my head to breathe, I felt stuffy, my nose and mouth were full of sand and dirt," Giat said.
The cellar was buried by the destructive power of the bomb. Giat had to gradually inch his body "like... a mole", pushing away each layer of soil and rock to emerge. When he got out, in front of his eyes was another world. Right next to him was a deep bomb crater, littered with bricks and stones. The roofs of the houses were blown off by the bombs. The smell of gasoline smoke, half-burnt wood, and even blood hit the nose.
He could only use his bare hands to dig into the tunnel, to find each loved one still trapped inside. That night, Giat lost his father, mother and sister. Of the whole family, only him and his little sister, who was going to school, survived.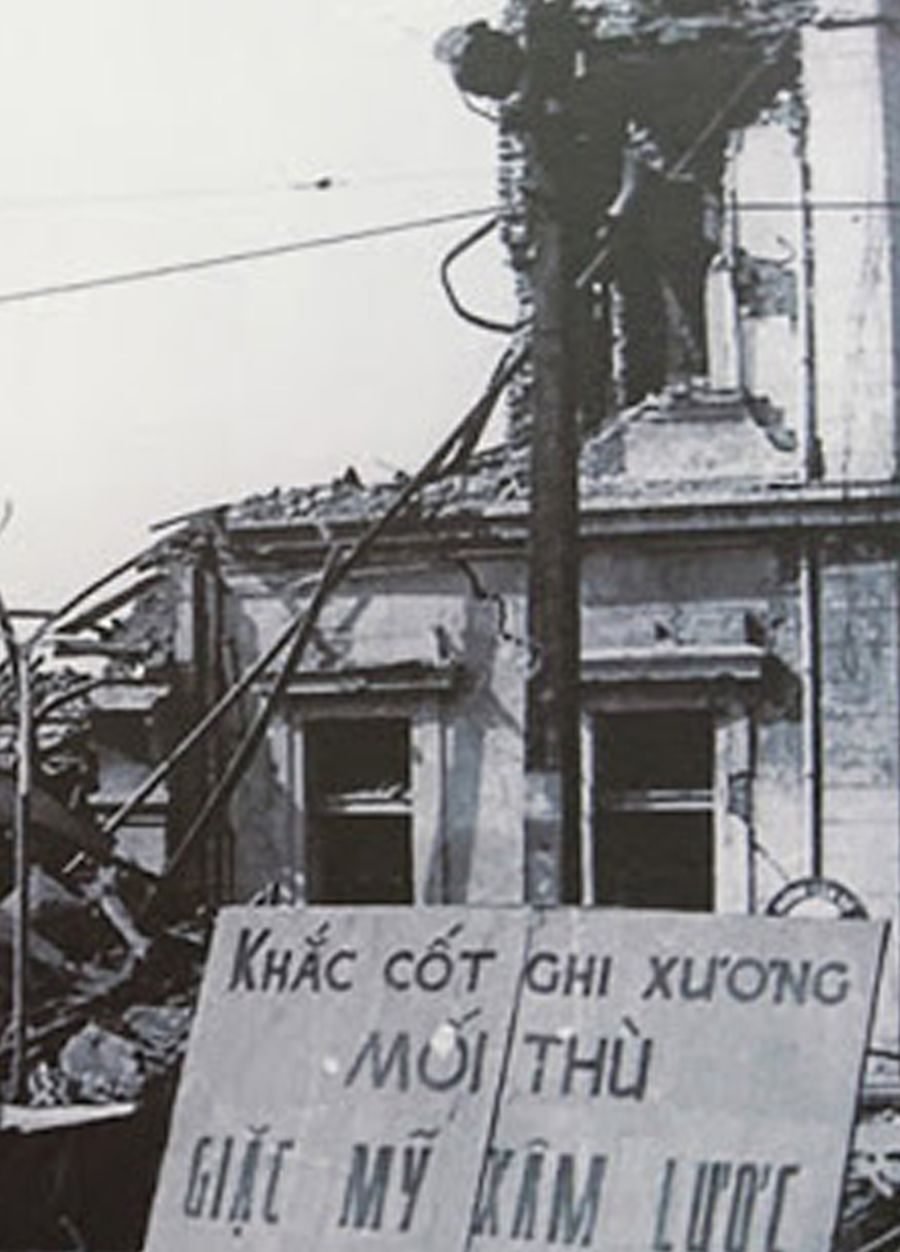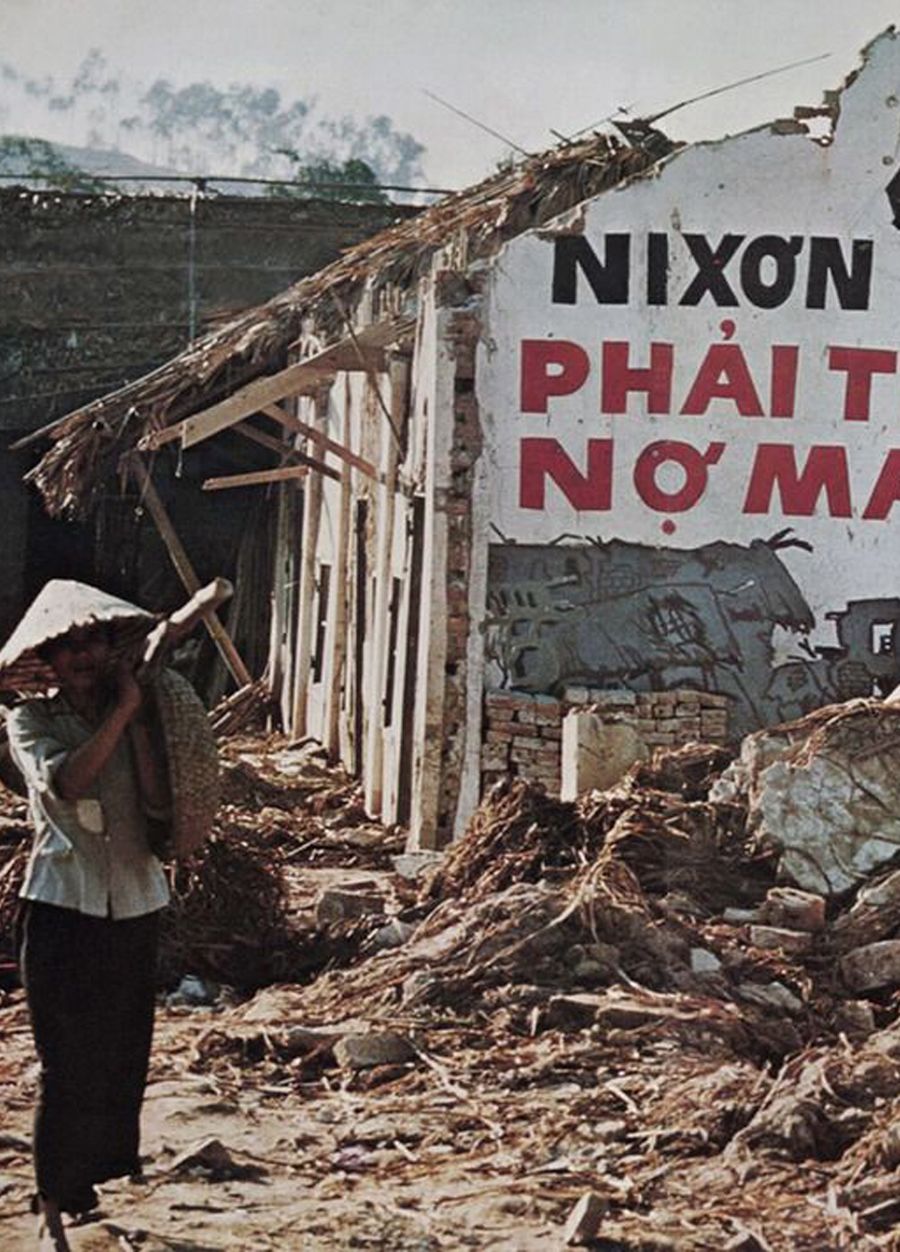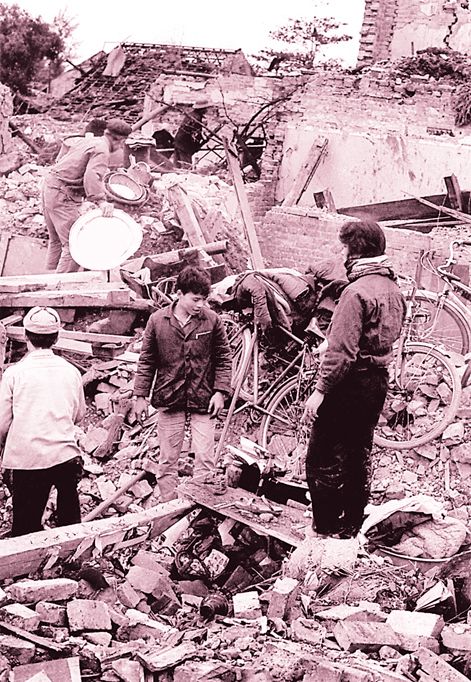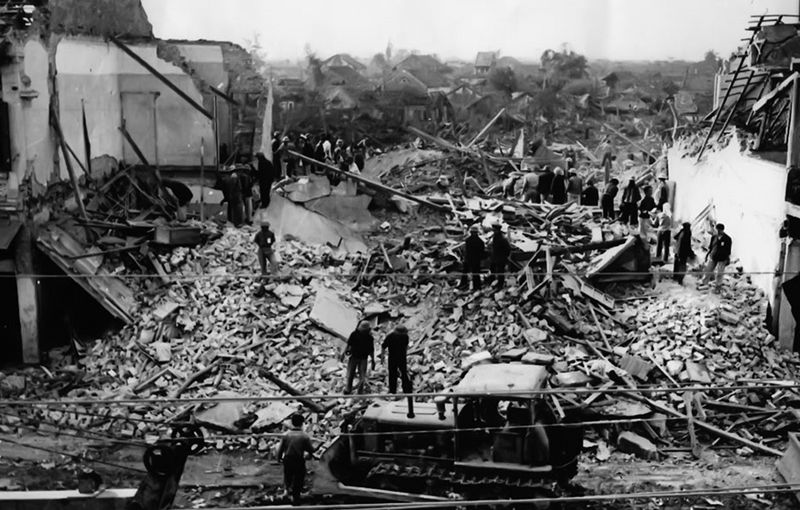 Chu Thi Hoa, a resident living in Ho Dai Alley, cannot forget the terrible memories from the night of December 26, 1972. While crying, she said: "That night, when I heard the alarm, my mother-in-law and I ran down to the shelter in the neighbourhood while my husband and his two sisters hid in a shelter near our house. When the bombs fell and the shelter was covered by rocks, I heard her cry 'Please help me' but I could not do anything."
A few minutes later, Hoa was dug up by the people above, but her mother-in-law lost her life. At that time, thinking of her husband and sisters, Hoa hastily ran back to Ho Dai with her feet bleeding from the scattered bricks and stones everywhere. When she got there, she saw her husband's body lying across the shelter door as bombs cut through him. The bomb attack on December 26 killed her five relatives.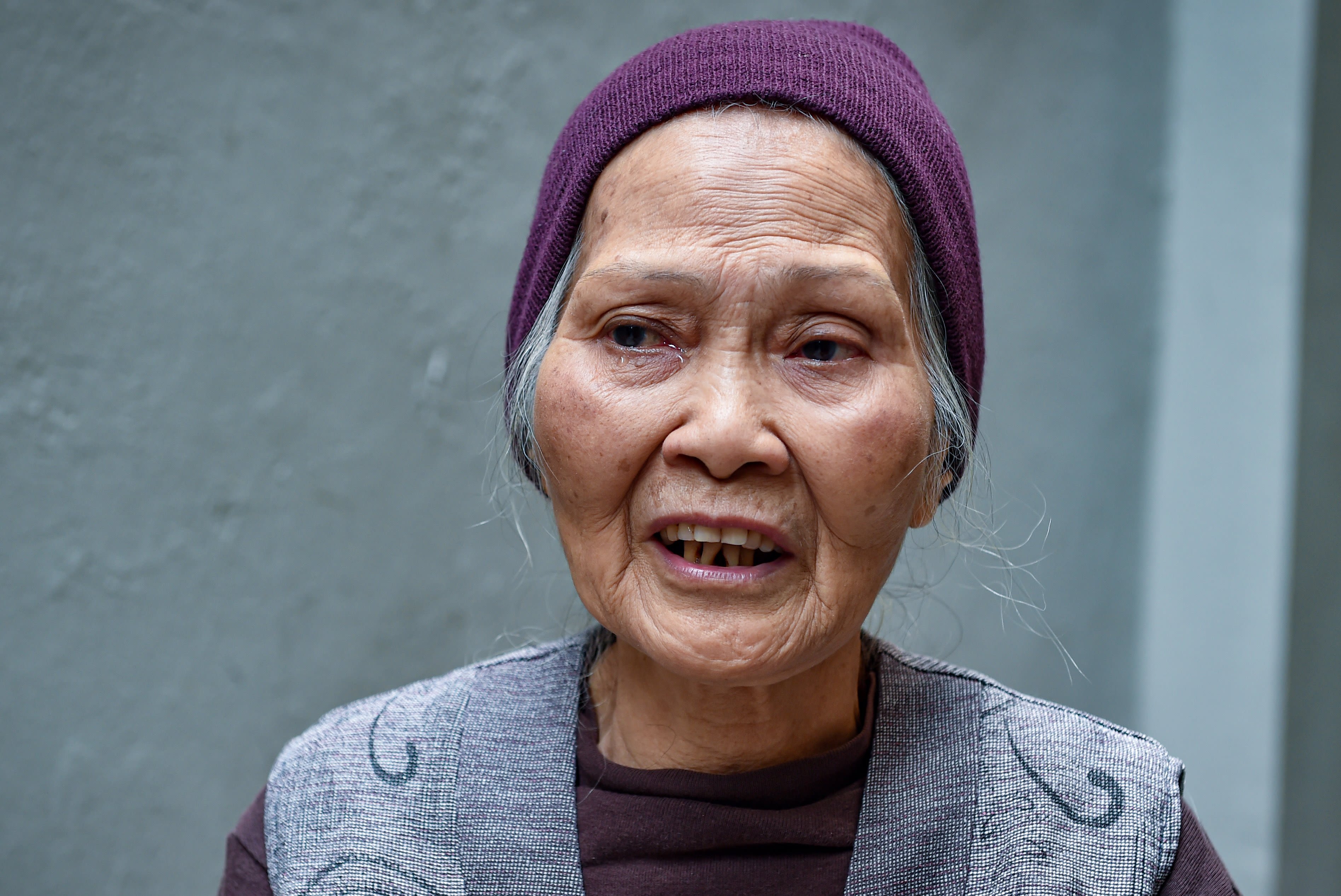 Hoa also said that Giac's family lost his father, mother and a sister while bomb fell directly on the roof of the shelter where Le's newlywed wife was hiding. Bombs poured into San Quan Alley, taking the whole alley to another place and cutting a puddle up to ten metres deep into the ground. Cau's family (now deceased) lost his wife and son while Thanh's family lost eight members of four generations at the same time.
Journalist Chu Chi Thanh recalled that when he went to Kham Thien to work the next morning, coffins were gathered everywhere on any still-intact ground. People wore mourning headbands while others burned incense. Screams and cries of despair echoed throughout the street while Hoa had no more tears to cry.
Her mother-in-law's dead body, after being brought out of the collapsed tunnel, was lost due to being moved to an unknown location. With no coffins left, she asked for a few pieces of plastic to wrap the dead bodies of her husband and children. A line scribbled on the outside with their name, age and hometown was the only "sign" to distinguish those who have fallen in the catastrophic bombing.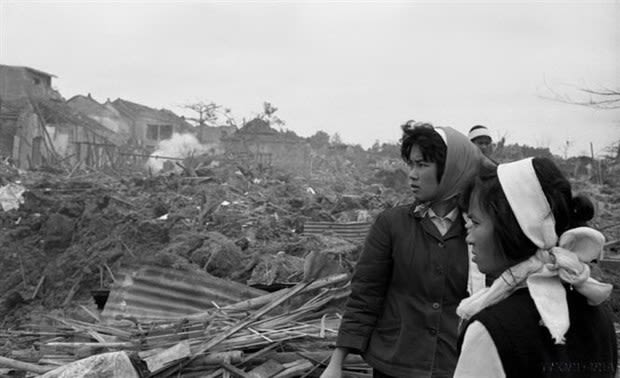 Kham Thien Street (Hanoi) was bombed by US's B-52 aircraft (December 26, 1972). (Photo: VNA)
Kham Thien Street (Hanoi) was bombed by US's B-52 aircraft (December 26, 1972). (Photo: VNA)
At that time, thousands of people like Giac and Hoa could not fully understand that the last night of bombing was part of 'Operation Linebacker II' - the last strategic aerial bombing operation of the US Air Force in northern Vietnam.
According to statistics, throughout the 12 days and nights, the US Air Force and Navy mobilised 193 B-52 strategic aircraft and nearly 1,000 tactical aircraft of all kinds. US planes dropped more than 20,000 tonnes of bombs onto Hanoi, Hai Phong and several other localities in northern Vietnam, bringing the area "back to the stone age" and removing the deadlock on the Paris negotiation table. On the night of December 26 alone, a total of 9,932 bombs found their targets.
The night bombs turned the streets from Kham Thien to O Cho Dua into a "wasteland". Nearly 2,000 houses were demolished, 534 of which were completely destroyed. Kham Thien was shattered, broken and dispersed within just a few minutes.
B52 bombs also took 283 lives, including 91 women, 40 elderly and 55 children, and left 178 orphans. In an instant, hundreds of families suffered separation. Children lost fathers and wives lost husbands. There were many families where no one was left alive.
On the odd-numbered side of Kham Thien Street, of the 303 house numbers, there are three house numbers missing: 47,49 and 51. People have set up a stele of hatred at the location of those three houses, along with a cement statue of a woman holding a child in her arms.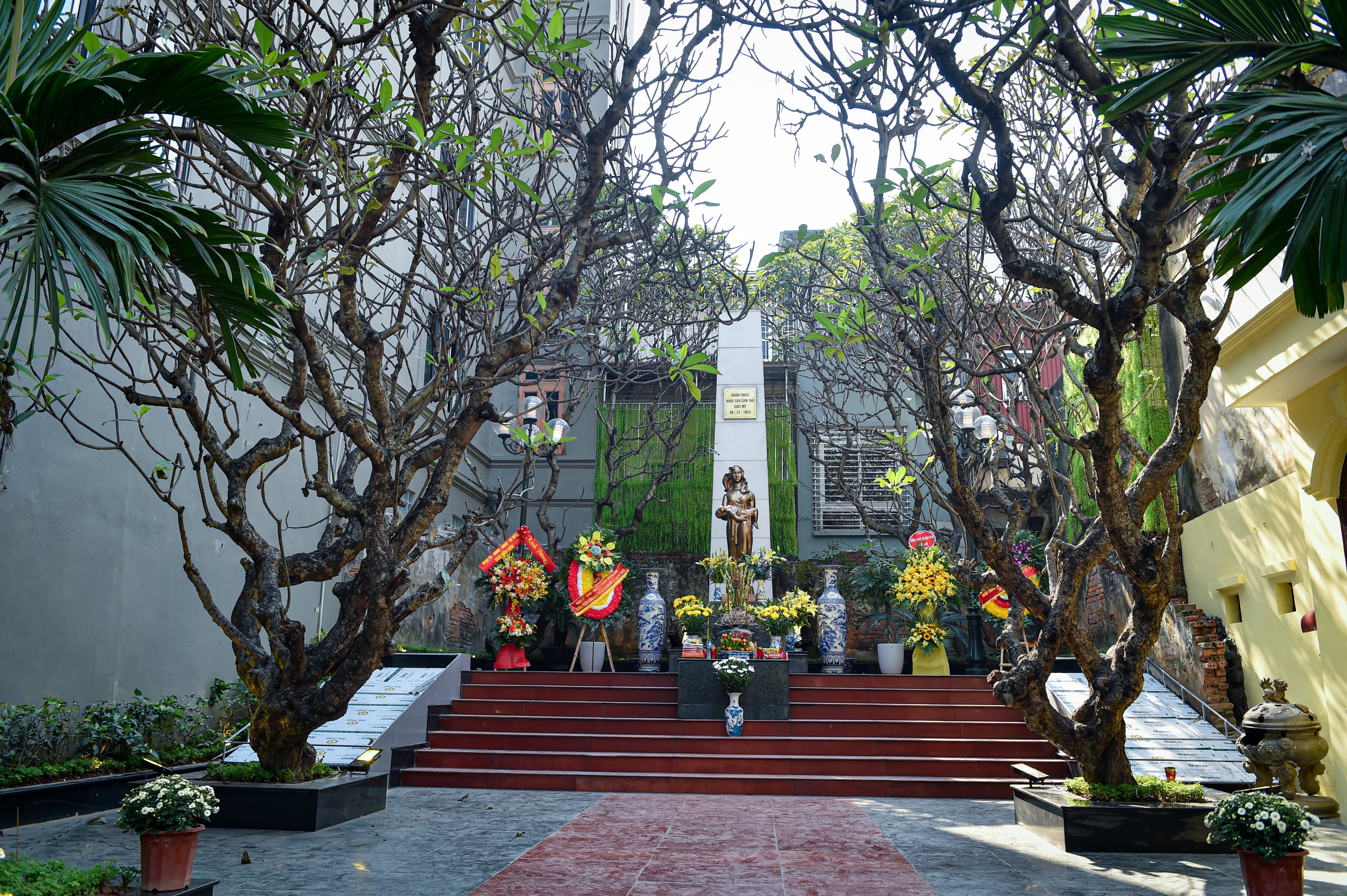 Life restored in the land of fire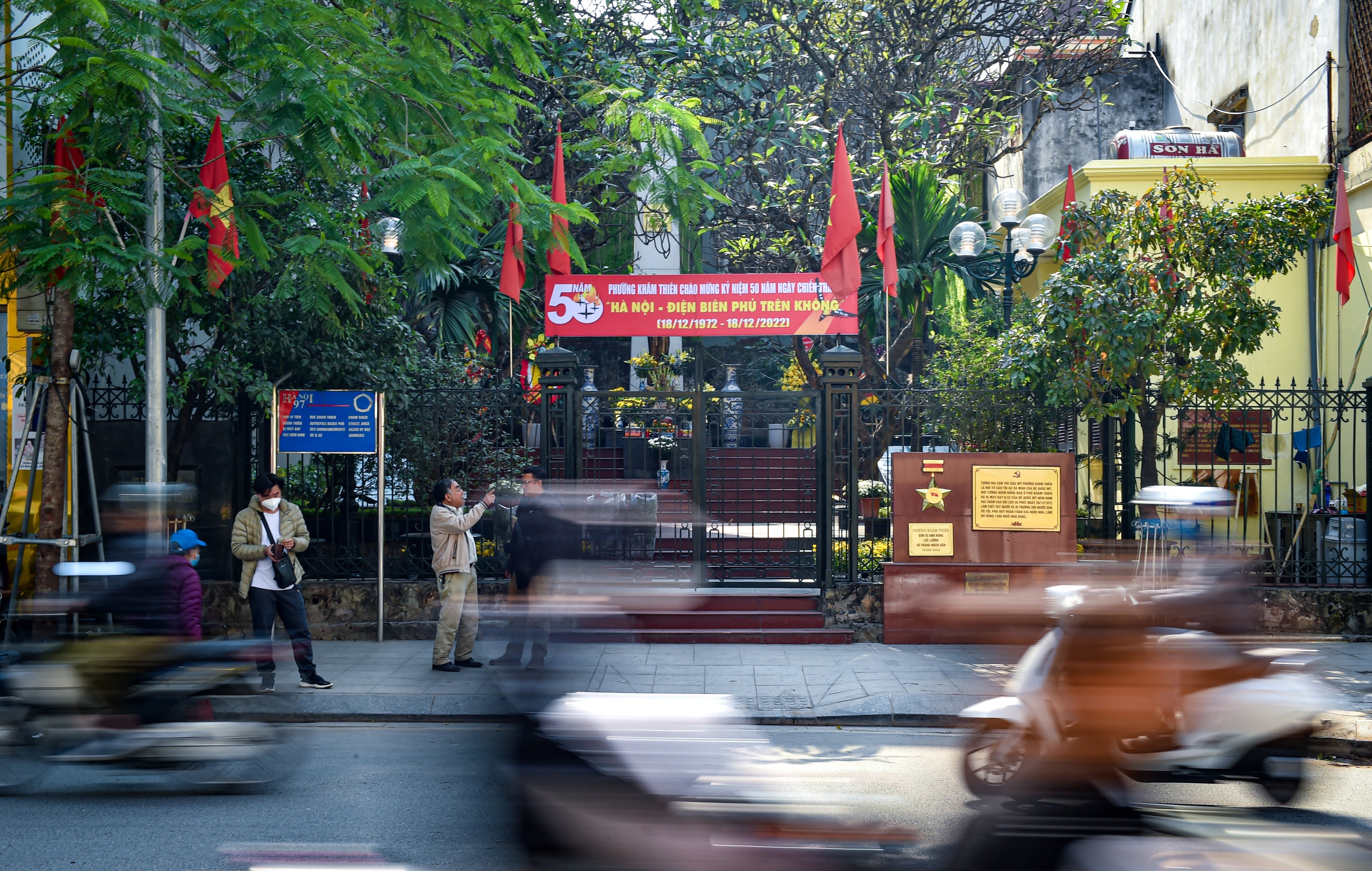 People in Kham Thien Street marked their first Tet (Lunar New Year) Festival after the catastrophic bombing. Like their hundreds of neighbours, Giac and his young sister welcomed the new year in temporary houses, littered with bricks and bomb craters. Incense sticks flickered in the houses as evidence of the pain that had not yet healed.
Hoa couldn't stand the obsession and brought her three sons to her office dormitory to live. On a windy afternoon on the last day of the year, she took her children back to Dai (Long) Lake to offer incense for her husband and relatives. Ahead of the Tet festival that year, the city's authorities provided each family with two 'banh chung' (square sticky rice cakes), a box of jam, and a few bowls of rice. On New Year's Eve, families gathered around the flickering oil lamp, their heads still covered with white headbands.
Drawing a faded black-and-white photograph from her pocket, Hoa said that the photo was taken the afternoon she took her children to return home to celebrate Tet 50 years ago. In the photo, the 30-year-old mother tried to wear a smile next to her children, who had naive eyes and couldn't fully comprehend their loss.
Many people made the same decision as Hoa, moving home to leave the painful land.
But life must go on
Giat said quietly while lighting a cigarette
That year, from a young man preparing to enter the university, Giat set aside his dream of being a lecturer to work as a bricklayer and help his younger sister continue her studies. He did everything he could to make a living. He planted duckweed into the deep bomb crater in front of the house to feed pigs.
Hoa's father-in-law returned from the evacuation place to pick up bricks and plywood to rebuild a ramshackle shelter on the foundation of the old five-compartment house. Since then, the old man had raised four grandchildren and a daughter whose spine was broken by a bomb. The painful vestiges of the war became a life source spreading hope in the land of fire.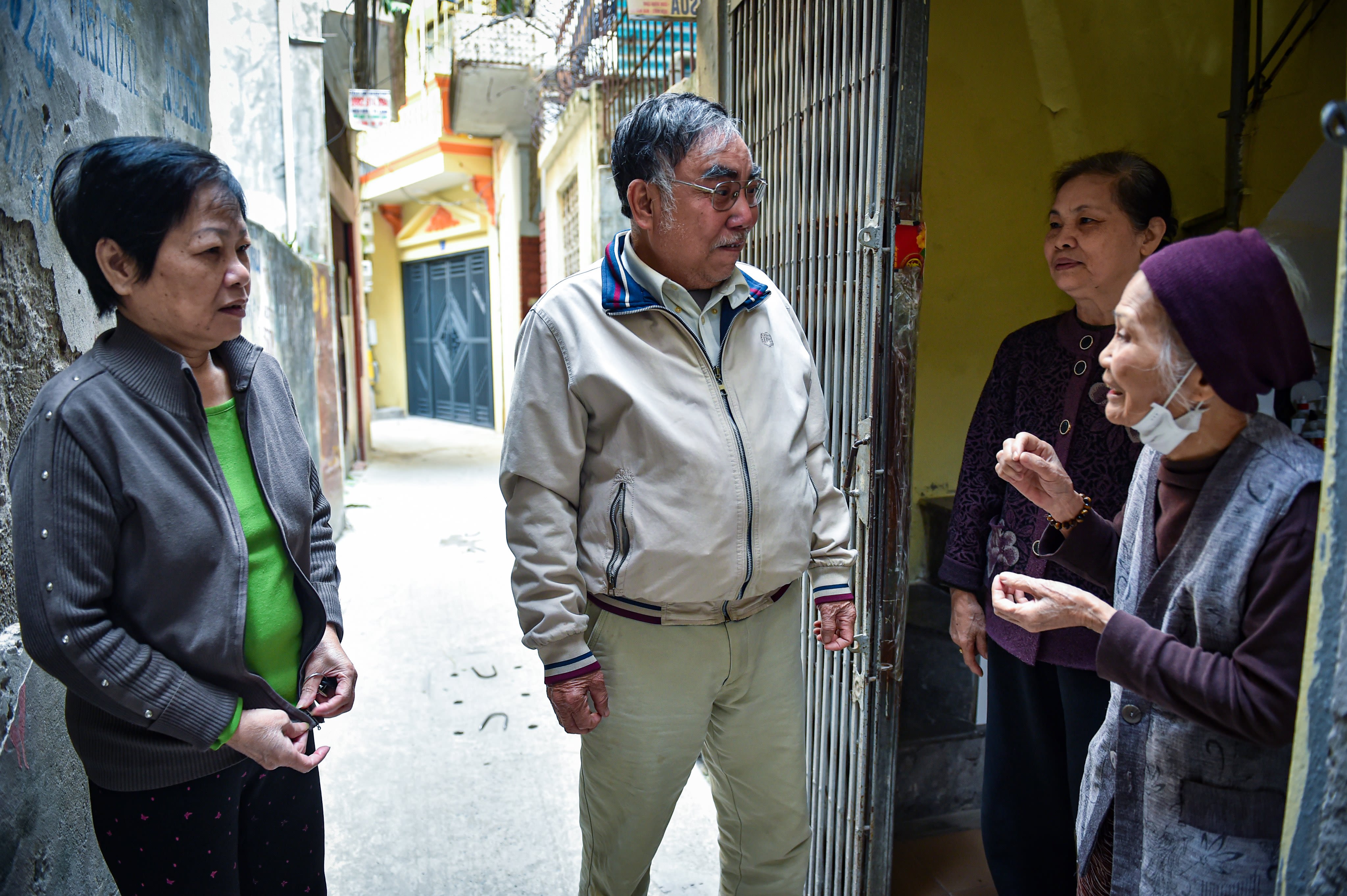 A few years later, Hoa also returned to "B-52 bomb street" to build a house for residence. She had been struggling to make a living with all kinds of jobs to raise her children. Her sister-in-law, Thanh, also constructed a small house right next to her.
In his classic film titled "Em be Hanoi" (The Little Girl of Hanoi), director Hai Ninh reproduced a grateful Hanoi through a painful scene after the "B-52 pain". After finding a rice book in the rubble, little girl Ngoc Ha lined up to apply for distribution. Witnessing the little girl with a mourning scarf on her head and a straw hat on her back, other people asked her:
- What street do you live on?
- I live on Kham Thien Market Street.
- Kham Thien? Go up, kid. Get ahead of me.
Hearing this, without a word, all the people pulled Ngoc Ha up to receive rice first. Kham Thien was a painful name, but also a sign for Hanoians to help each other overcome difficulties amid the common pain. The person who had a good shirt shared it with the neighbour in need. They also shared rice together.
50 years have passed, and Giat and Hoa have returned to a peaceful life with their family.
The second, third, and fourth generations were also born and raised on that land. Every day, they still listen to the unforgettable memories about the "bomb street" that were recounted by their parents and grandparents.
Peach blossoms have bloomed on the former battlefield.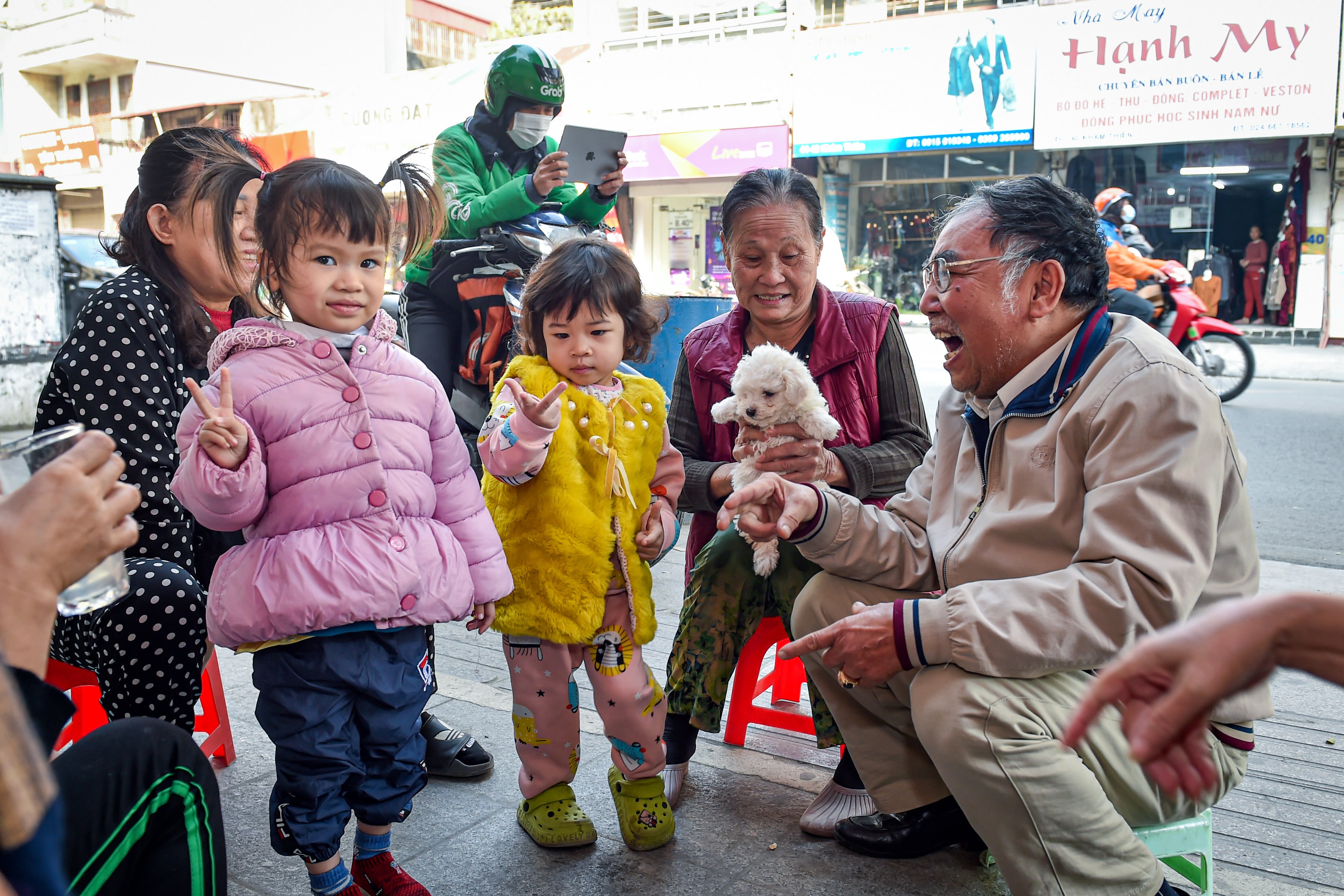 The painful vestiges of the war have become a life source sprouting hope. (Photo: THANH DAT)
The painful vestiges of the war have become a life source sprouting hope. (Photo: THANH DAT)
Item 1 of 1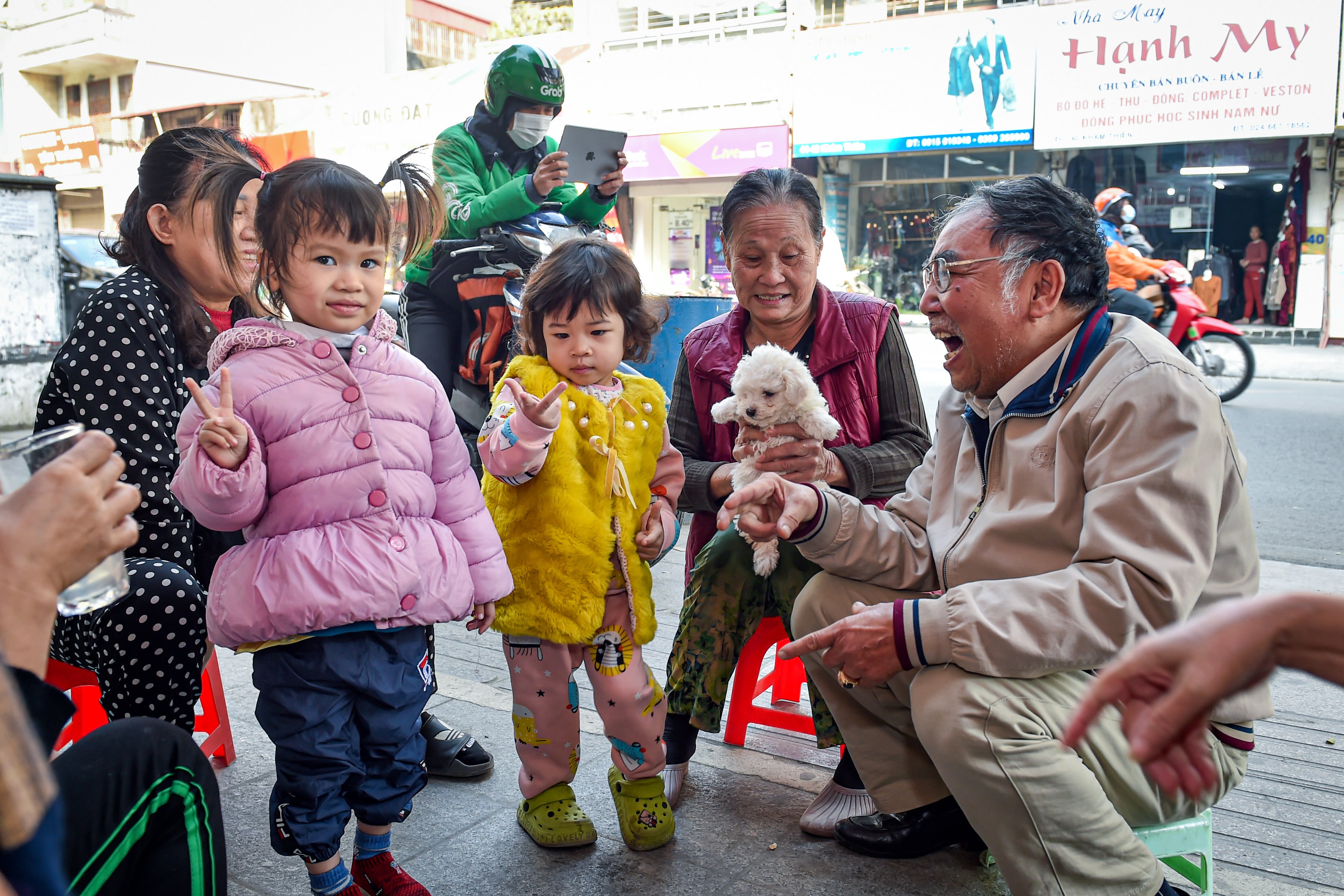 The painful vestiges of the war have become a life source sprouting hope. (Photo: THANH DAT)
The painful vestiges of the war have become a life source sprouting hope. (Photo: THANH DAT)
Publish: December 2022
Production managers: HONG MINH – HONG VAN
Content: SON BACH
Translation: NDO
Design: DANG PHI, HAI BINH, PHAN ANH
Photos: THANH DAT, VNA