QUANG NINH

strives to develop green tourism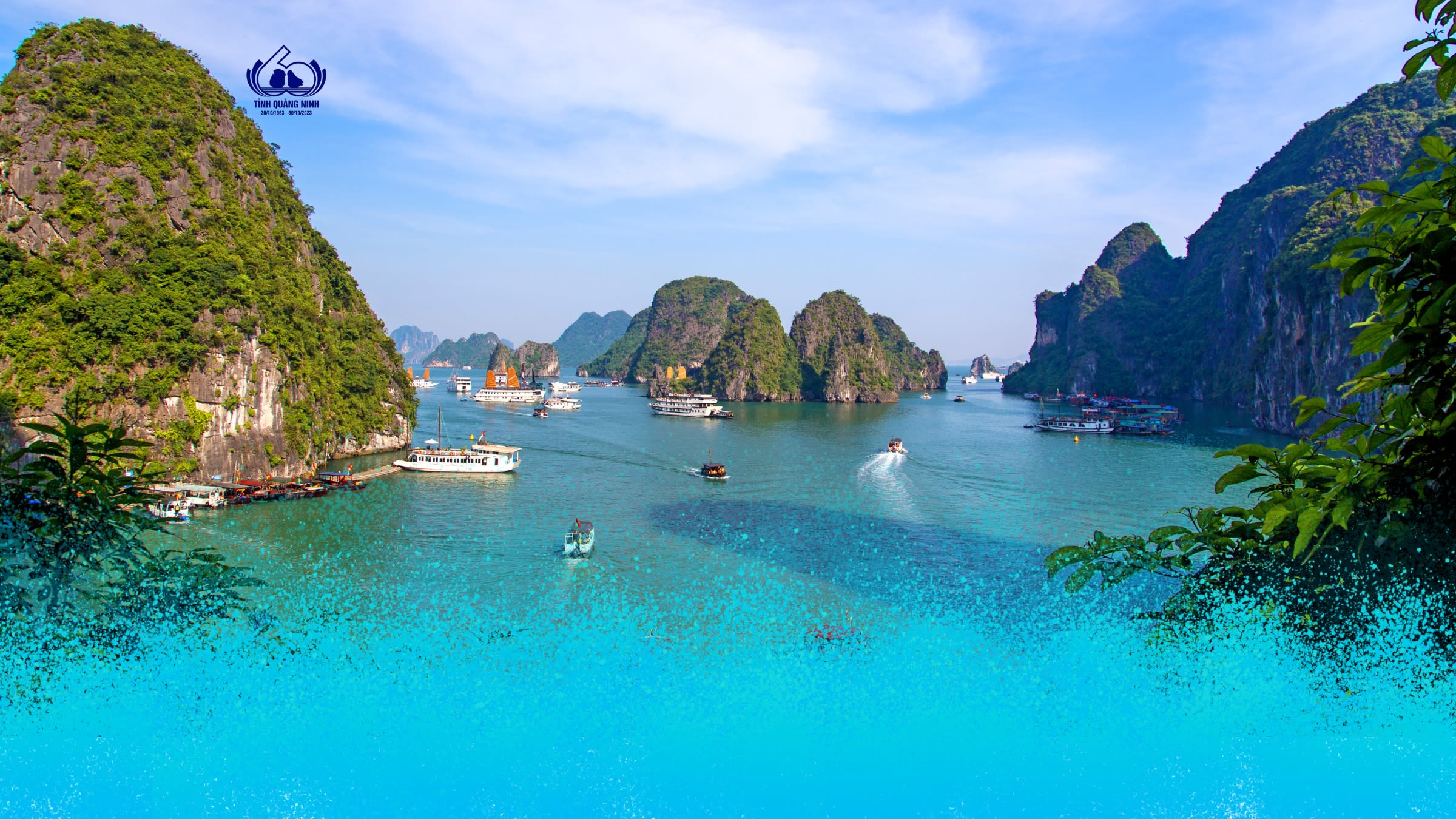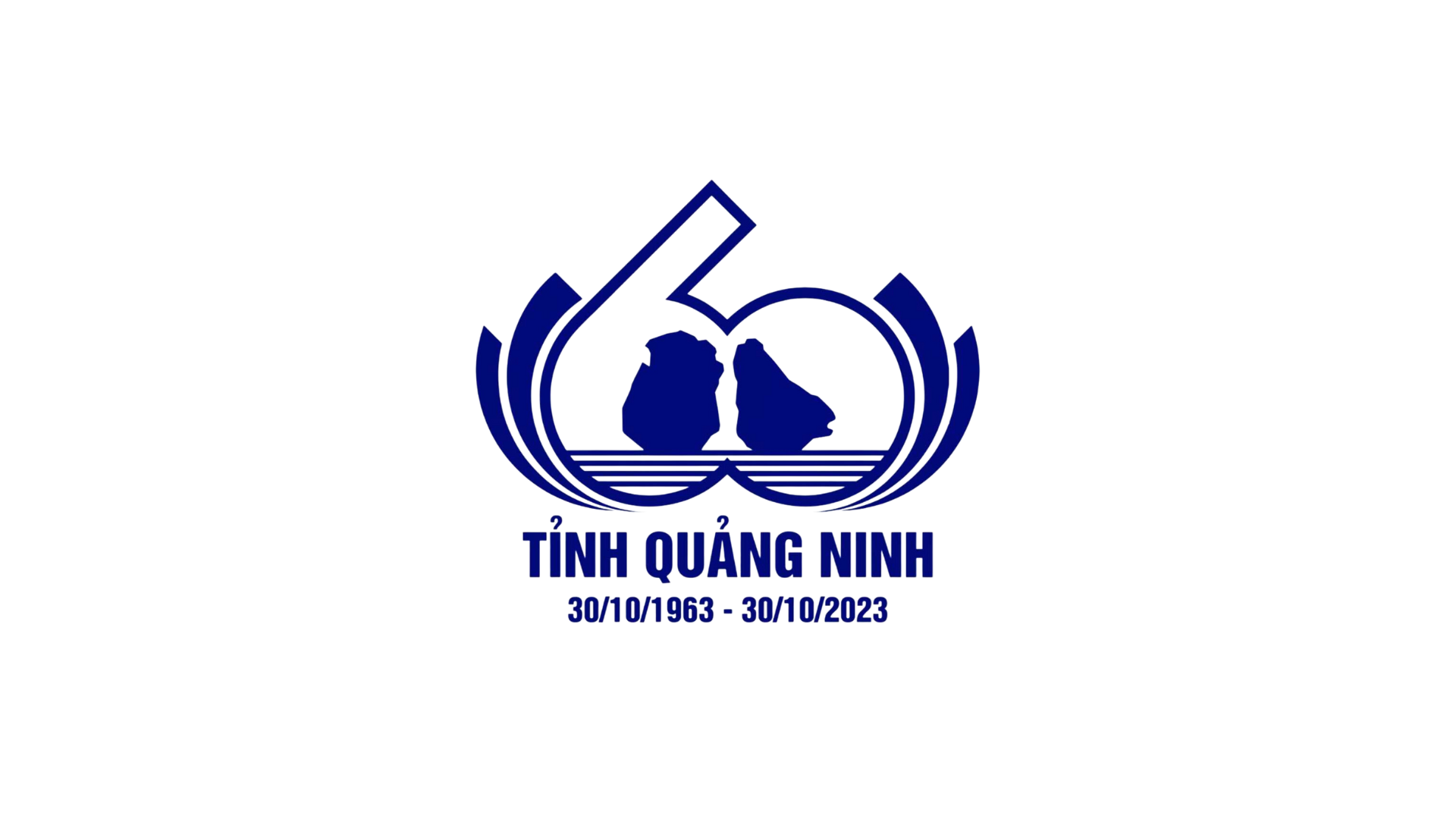 Amid the challenges of climate change and the coronavirus pandemic, Quang Ninh's tourism industry has quickly adapted to make an impressive recovery, with efforts to make tourism greener and more sustainable such that it can become an economic spearhead of the province.
Sustainable tourism development orientation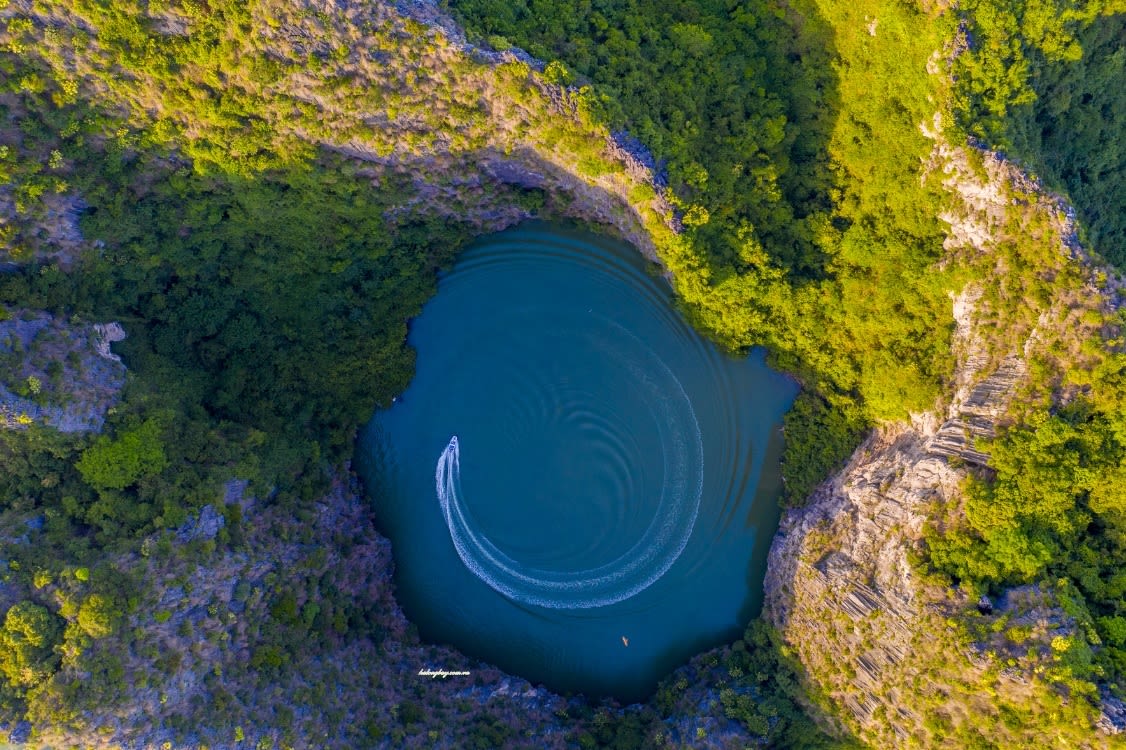 Since 2013 Quang Ninh has set a goal of making tourism grow sustainably and become an economic spearhead, as part of a broader shift in its development path from polluting industries to greener ones.
Under the provincial Party Committee's Resolution 07-NQ/TU, dated May 24, 2013, on tourism development in Quang Ninh for the 2013-2020 period, with a vision for 2030, Quang Ninh will develop tourism in a sustainable, professional, modern, effective and focused manner so that tourism will become an economic spearhead and account for an increasing proportion of its economic structure, helping to realise three strategic breakthroughs associated with efforts to restructure economic growth from "brown" to "green".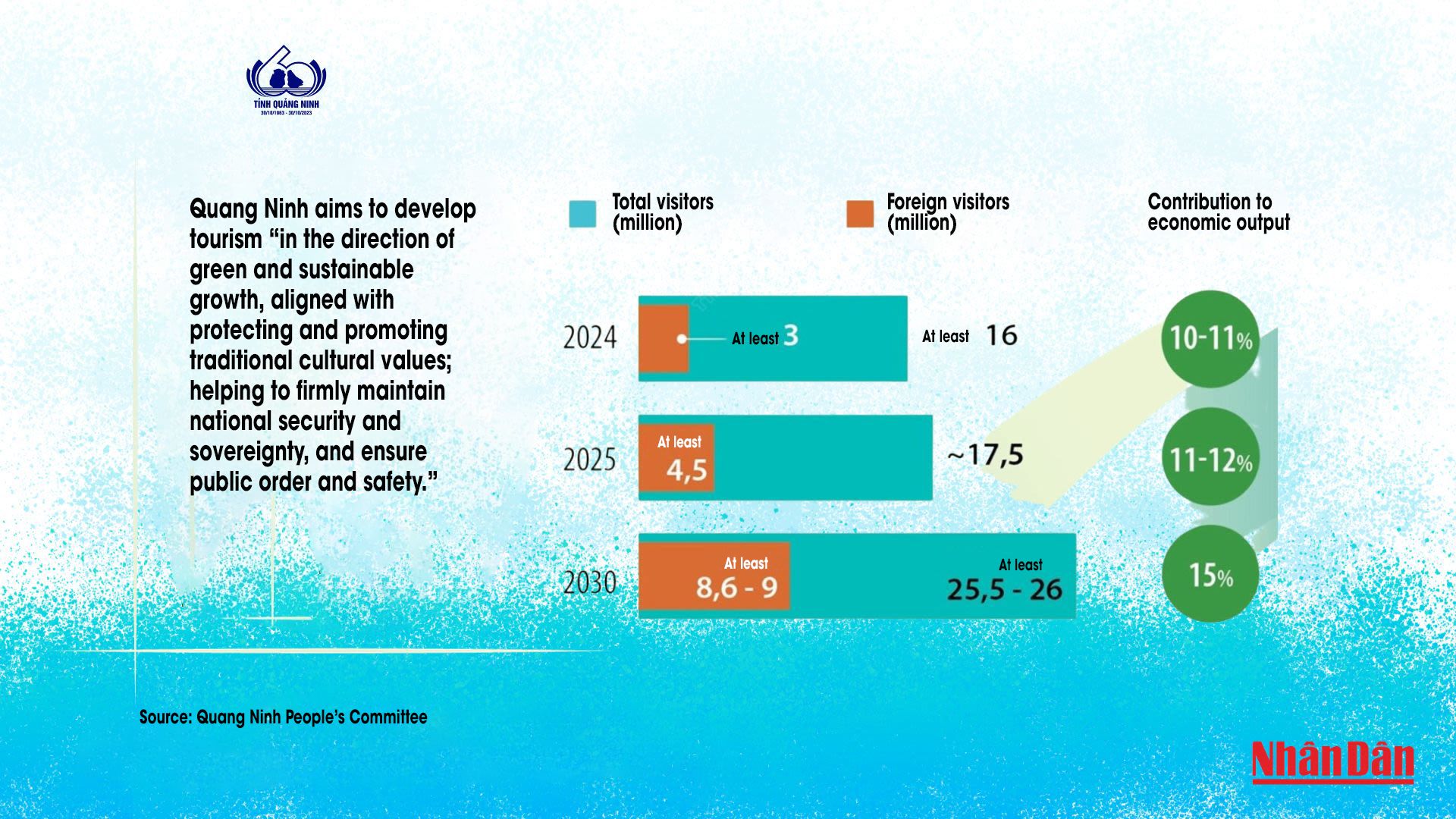 At a conference on Quang Ninh's tourism development held in March, Quang Ninh Party Secretary Nguyen Xuan Ky affirmed that in the coming time, the province will persevere with its sustainable and inclusive tourism development policy on the basis of green growth.
Quang Ninh's tourism development orientations all focus on the goal of developing tourism in a professional, quality and sustainable manner; aligning tourism development with protecting and promoting cultural values; utilising natural resources sustainably and effectively while protecting the environment; protecting biodiversity; and protecting and promoting the values of the World Heritage site Ha Long Bay.
Quang Ninh will develop green tourism aligned with actively responding to climate change, effectively addressing the issue of employment and social security, ensuring national defence and public order. With such goals, tourism is expected to become an economic spearhead with close connections to industry, services, agriculture and the marine economy.
On August 8, 2023, the provincial authorities issued a decision that reiterated the goal of "developing tourism in the direction of green and sustainable growth, aligned with protecting and promoting traditional cultural values; helping to firmly maintain national security and sovereignty, and ensure public order and safety."
Tourism aligned with environmental protection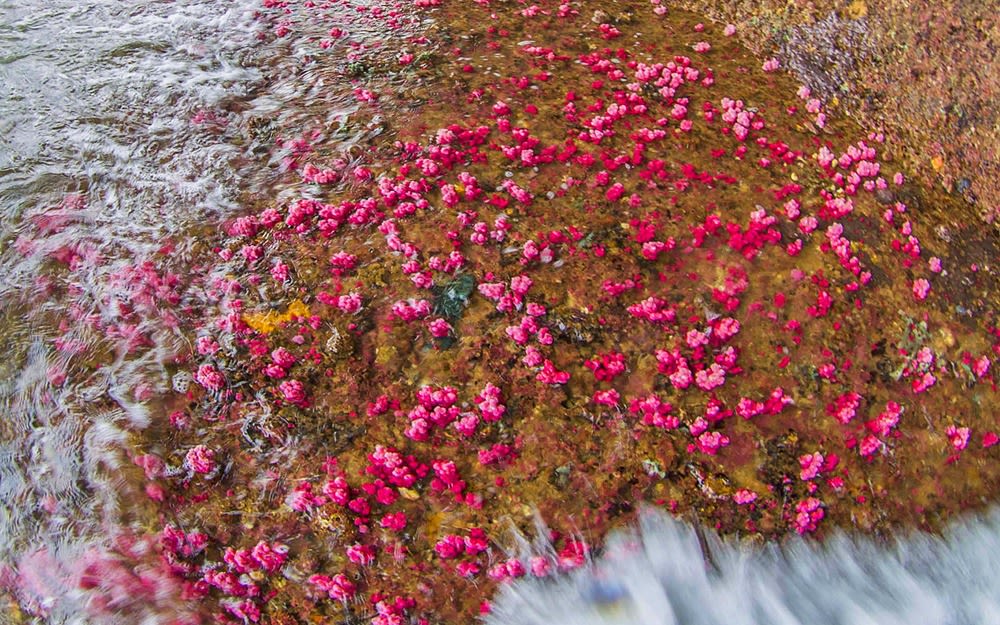 Recently, there have been continuous reports on the appearance of sea turtles and whales in the waters of Co To District. Earlier, the Ha Long Bay Management Board reported that some coral reefs in Ha Long Bay are recovering, with high coverage rates in some areas. This is good news as it suggests that the marine environment in Quang Ninh is getting better. Such results come from the efforts to restore the healthy environment by the local government, people and tourists to Quang Ninh.
Quang Ninh currently owns the largest and most modern tourist ship fleet in the country, with over 500 tourist ships (including nearly 200 accommodation ships), with full amenities to serve tourists. The province also has more than 80 enterprises providing cruise services in Ha Long Bay, with most of the companies having many years of experience. Every year, about 100,000 ships depart to take tourists to visit Ha Long Bay.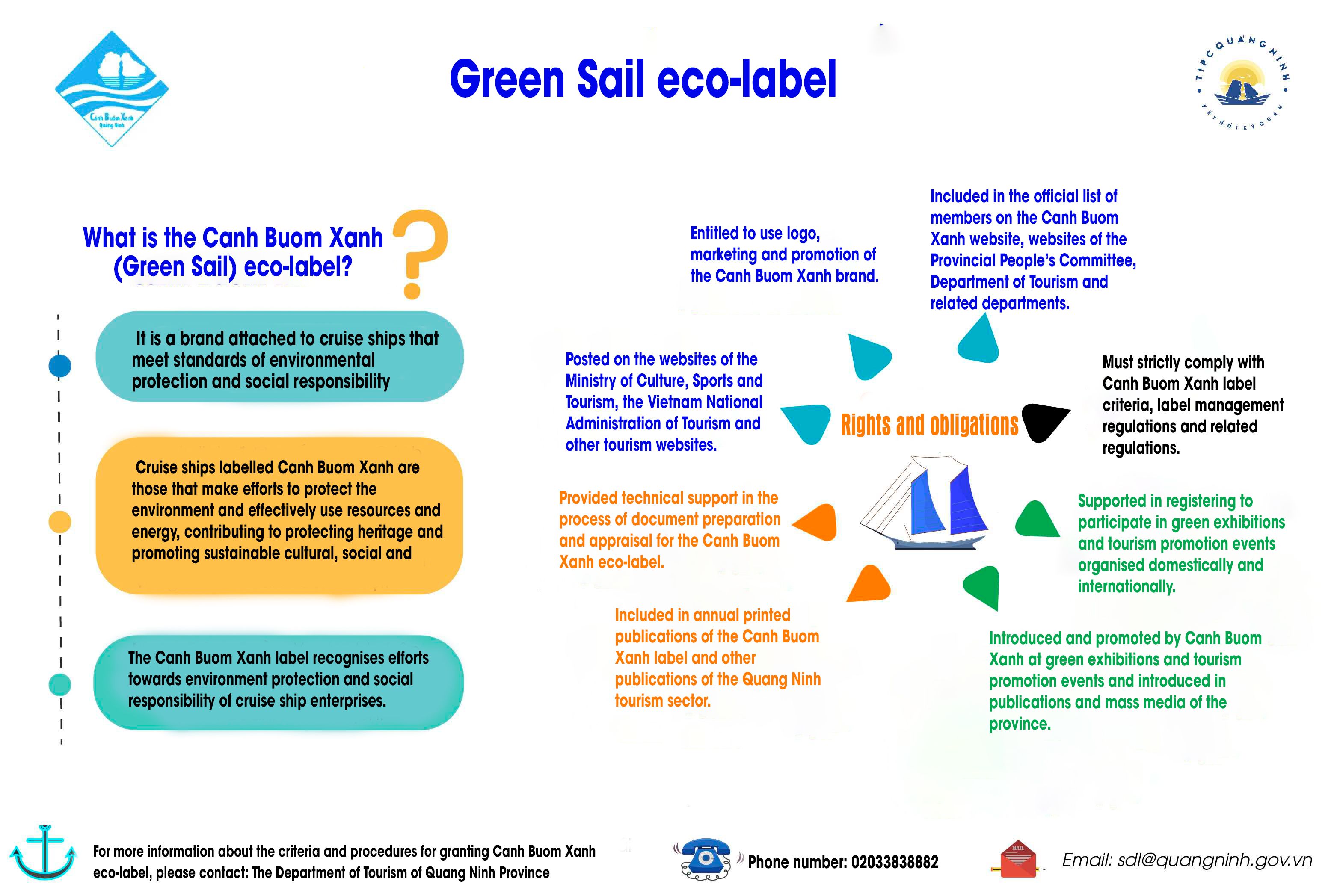 Besides the positive aspects, cruise ship activities still reveal shortcomings, affecting the sustainable development of destinations, such as the pollution caused by transportation activities, ship cleaning, crew's domestic waste, food service activities, overnight stays on the ship, and entertainment services.
With the support of the Japan International Cooperation Agency (JICA), the Quang Ninh Department of Tourism has developed Canh Buom Xanh criteria for cruise ships in Ha Long Bay. The Department of Tourism said that during the pilot phase of granting the label, 36 cruise ships in Ha Long Bay were eligible to receive the label. These ships have made efforts to protect the environment and effectively use energy resources, contributing to protecting heritage and developing local economy, culture and society for sustainable tourism.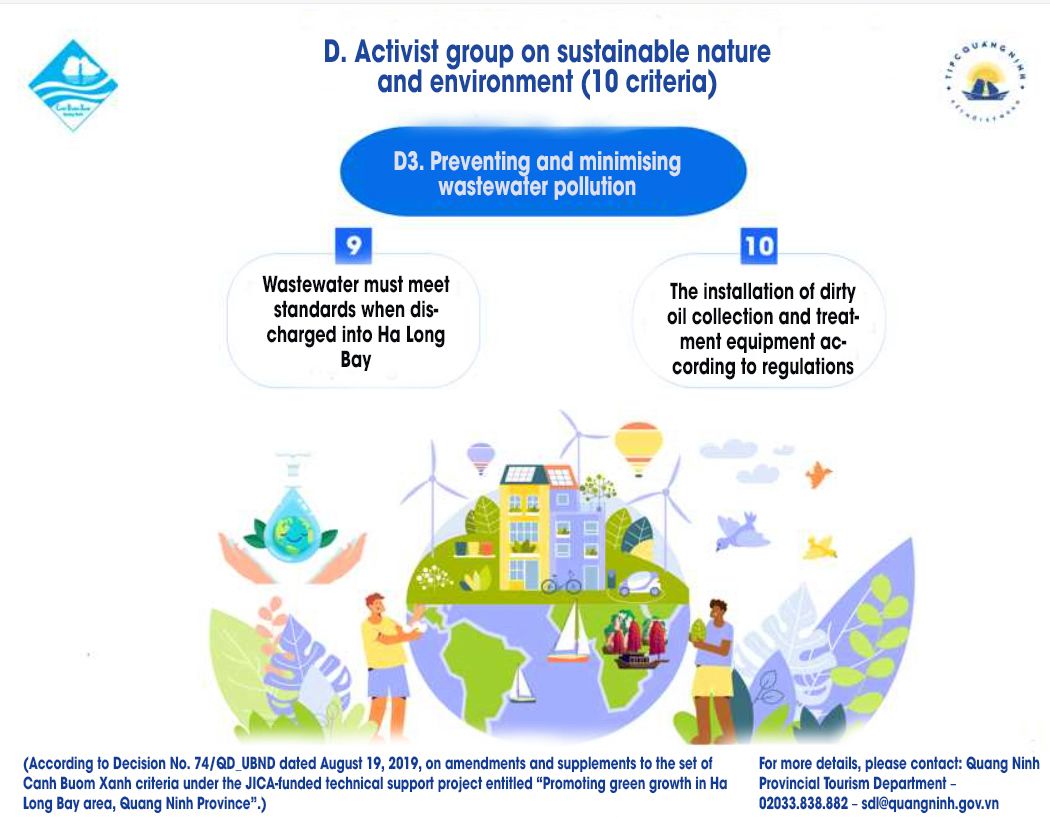 Quang Ninh has also adopted energy-saving solutions and issued a white paper on green growth in Ha Long Bay. In addition, the province has proactively applied advanced technology to filter wastewater before it is released into the environment; avoid dumping waste directly into the bay; use all glass water bottles, paper straws and paper cups to minimise harmful impacts on the environment, during the operation of cruise ships on the bay.
Since 2019, a total of 204 businesses and households operating cruise ships, 15 businesses and households providing kayak and rowing boat services, and 51 businesses and aquaculture households, have signed commitments with Ha Long Bay's Management Board, in which they pledge not to use single-use plastic products on the bay. This has helped to cut 90% of single-use plastic waste at tourist attractions at the bay.
Participating in the 2-day 1-night journey on Ha Long Bay, Sarah Watson from Australia said that she had a very interesting and memorable journey. "In the morning, I woke up in a very fresh, pure space and I practised yoga right on the cruise to welcome the new day. I regret not booking a longer tour. I will come back next time for a longer stay on the bay," she said.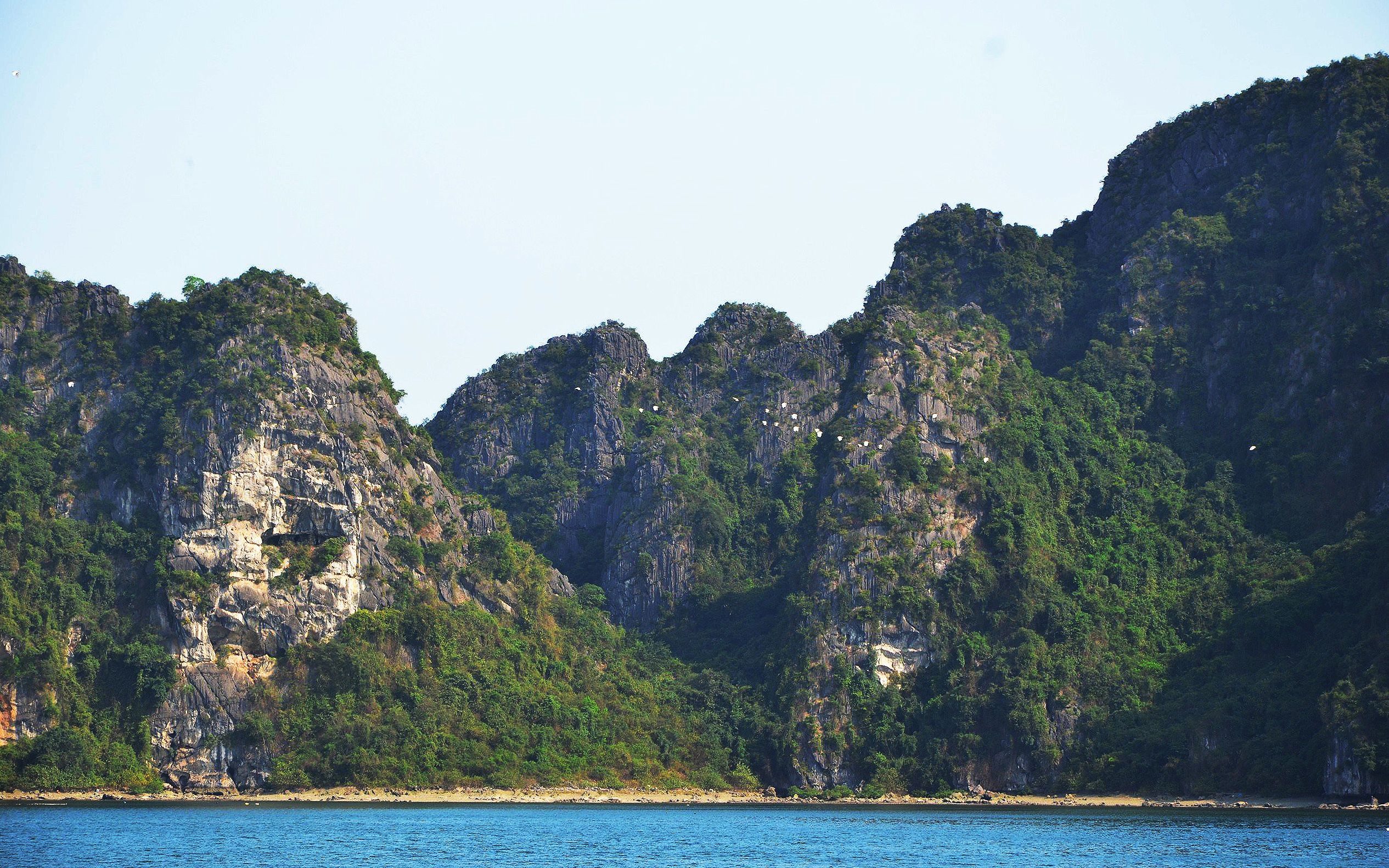 According to the Ha Long Cruise Ship Association, 100% of cruise ships in the area have signed a commitment to not use single-use plastic products, while operating their tourism services and activities on Ha Long Bay, contributing to protecting the environment and boosting sustainable tourism development.
The movement to call for joint efforts to reduce plastic waste and protect the environment has been widely implemented, achieving many encouraging results, such as the launch of groups on collecting waste bottles in Ha Phong, Hong Ha, Hong Hai, and Tuan Chau wards (Ha Long City), the development of plastic waste-free routes in Tuan Chau ward, the movement encouraging women to use biodegradable bags in Cam Thinh ward, Cam Pha city, and the implementation of Volunteer Saturday and 'Green Sunday, by youth union members.
Along with Ha Long, the Co To Island District is another typical example of building a sustainable green tourism environment. On September 1, 2022, the District People's Committee piloted a regulation requiring tourists not to bring plastic bottles, nylon bags, and materials which pose a risk of environmental pollution to the island.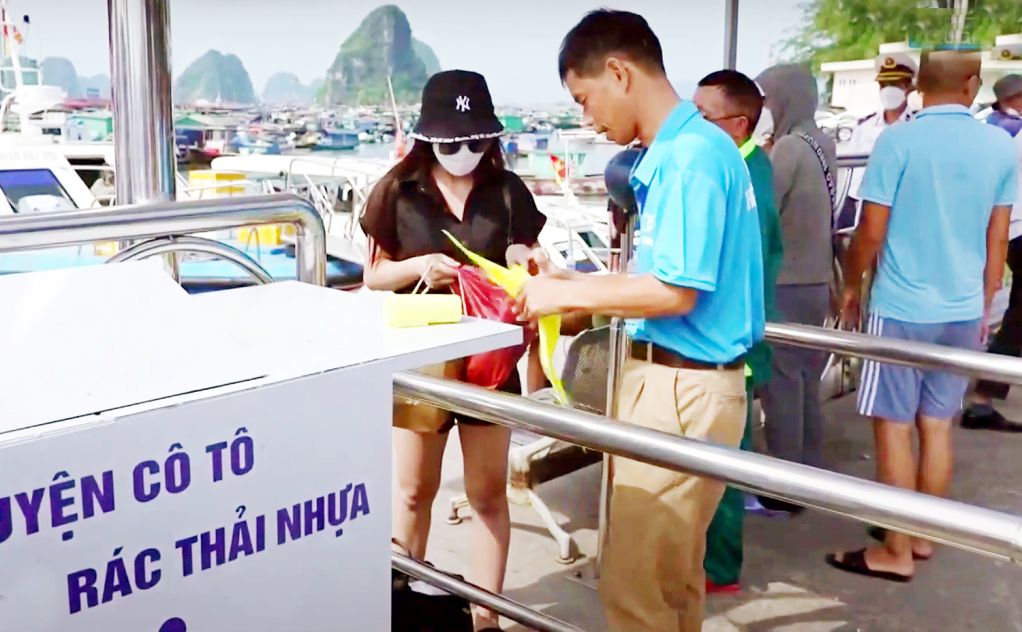 After one year of effective pilot implementation, from September 15, 2023, the district issued a mandatory regulation requesting tourists not to bring plastic bags and single-use plastic items to the island. In addition, all administrative units, schools, markets, business establishments, and fishing vessels in the area are not allowed to use plastic bags, disposable plastic items, and other materials that pose a risk of polluting the marine environment.
The District People's Committee has coordinated with the Department of Transport, Quang Ninh Inland Waterway Port Authority, and Van Don - Co To Inland Waterway Port Authority, to popularise the regulation to ships transporting passengers and goods to Co To, and check that vehicle owners and passengers do not bring plastic bags or single-use plastic waste to the island.
Persistent efforts for environmental protection have brought encouraging results. According to locals on Co To Island, for nearly two months, about 4-5 whales have regularly appeared in the area, from Ha Mai to Dau Trau in Co To Island District.
In August, people on Co To Con (Co To Small) Island in Dong Tien Commune discovered rare sea turtles appearing in the area.

Co To District's leaders said thanks to the clean climate and marine environment of Co To District, rare dolphins, whales and sea turtles often swim in and float to the surface.
According to the Ha Long Bay Management Board, from June 22 to July 14, they coordinated with the Institute of Marine Environment and Resources, to survey and evaluate the current ecological status of coral reefs in six areas, including Bu Xam, Cong Do, Coc Cheo, Tung Ngon, Luoi Liem and Soi Van in Ha Long Bay. Preliminary assessment results showed that coral reefs in six areas are well-developed and have higher coverage than the remaining areas.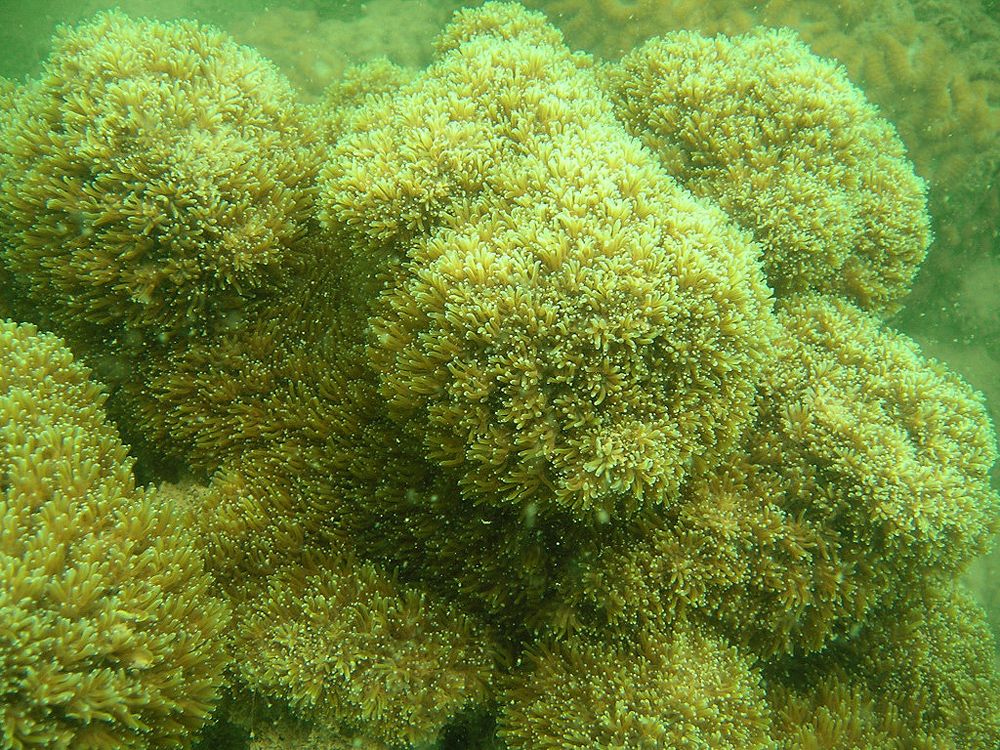 Notably, there are many coral branches still growing, while they are inherently sensitive to the environment and at high risk of being violated. Previously, in 2015, a survey showed that there were no good reefs, as the best reef coverage was below 50%, while the average coverage across the bay was only about 20%.
The appearance of sea turtles and whales in Co To's waters and the recovery of coral in the heritage core area is a very good sign, showing that the ecosystem and marine environment are getting better, especially since Quang Ninh Province promoted the cleaning of marine environments and the reduction of plastic waste.
EFFORTS TO BUILD SUSTAINABLE TOURISM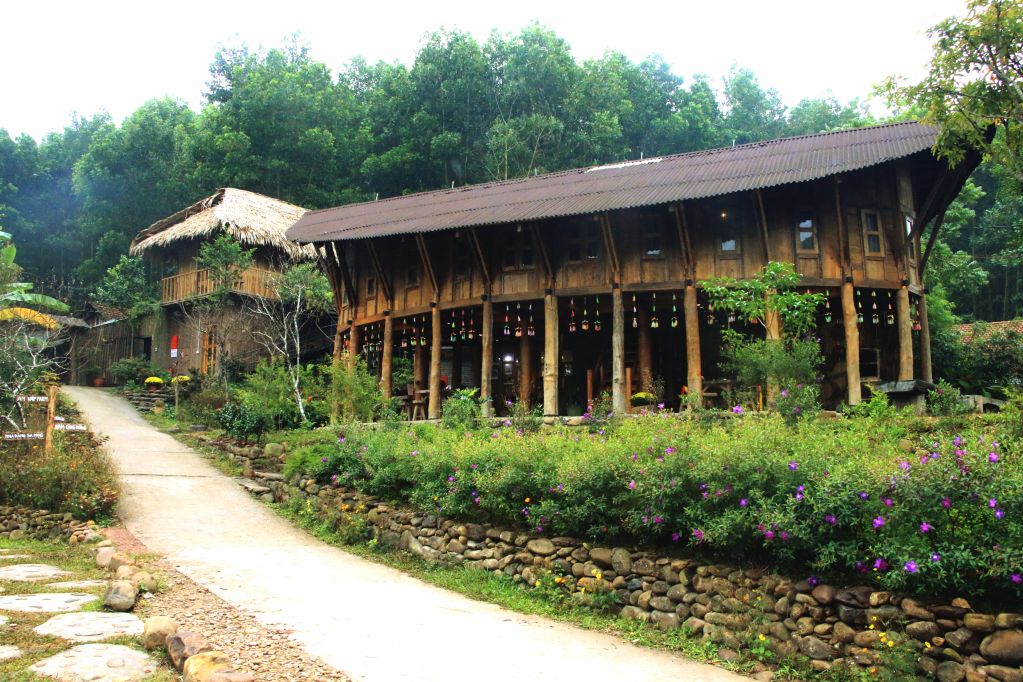 For many years, in parallel with restoring and preserving the marine environment to develop sustainable tourism, local authorities, the business community, and every citizen in Quang Ninh have made consistent efforts to join hands and create a green environment for tourism industry activities.
Quang Ninh tourism industry has maximized the available potential of nature, culture, and people to create green tourism products, linking tourism development with preserving and promoting national cultural values and identities; sustainable management and exploitation; effective use of natural resources; environmental protection; and biodiversity conservation.
There are possible destinations for agricultural tourism, community tourism, and ecological tourism models in Binh Lieu, Hai Ha, Tien Yen, Mong Cai; Boat service cooperative taking tourists to visit fishing villages and Ky Thuong Am Vap farm area (Khe Phuong Village, Ky Thuong Commune, Ha Long City); Community tourism in Yen Duc Village (Dong Trieu Town) brings many interesting experiences to visitors. Furthermore, these community and ecological tourism models have contributed to promoting and preserving cultural values, creating jobs, and sustainably reducing poverty for localities.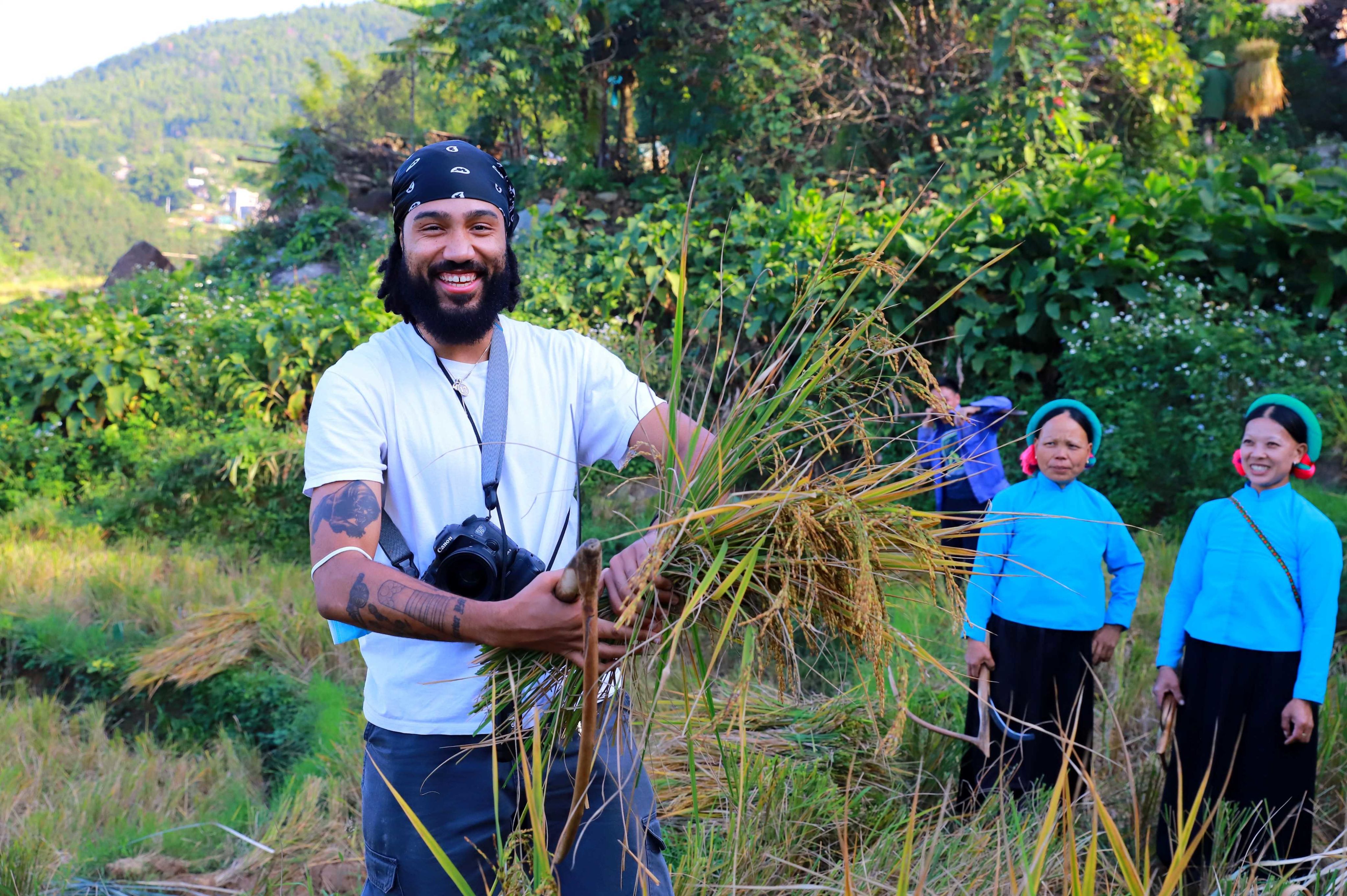 For accommodation establishments, since 2019, the Department of Tourism of Quang Ninh province has developed an action programme framework on application of ASEAN Green Hotel standards and focused on promoting the application of standards in tourist accommodation business activities throughout the province.
This standard includes 11 major criteria and requirements such as environmental policy and actions for hotel operation; use of green products; collaboration with the community and local organisations; human resource development; solid waste management; energy efficiency; water efficiency and water quality; air quality management (indoor and outdoor); noise pollution control; wastewater treatment and management (water quality); and toxic and chemical substance disposal management.
Up to now, in addition to 4-star and 5-star resorts and hotels, 3-star hotels and below and motels have also applied some of this set of standards. This can be clearly seen by the fact that it is not difficult to find accommodation facilities with a " Travel Sustainable Badge" when searching for accommodation in Quang Ninh on the Booking.com platform.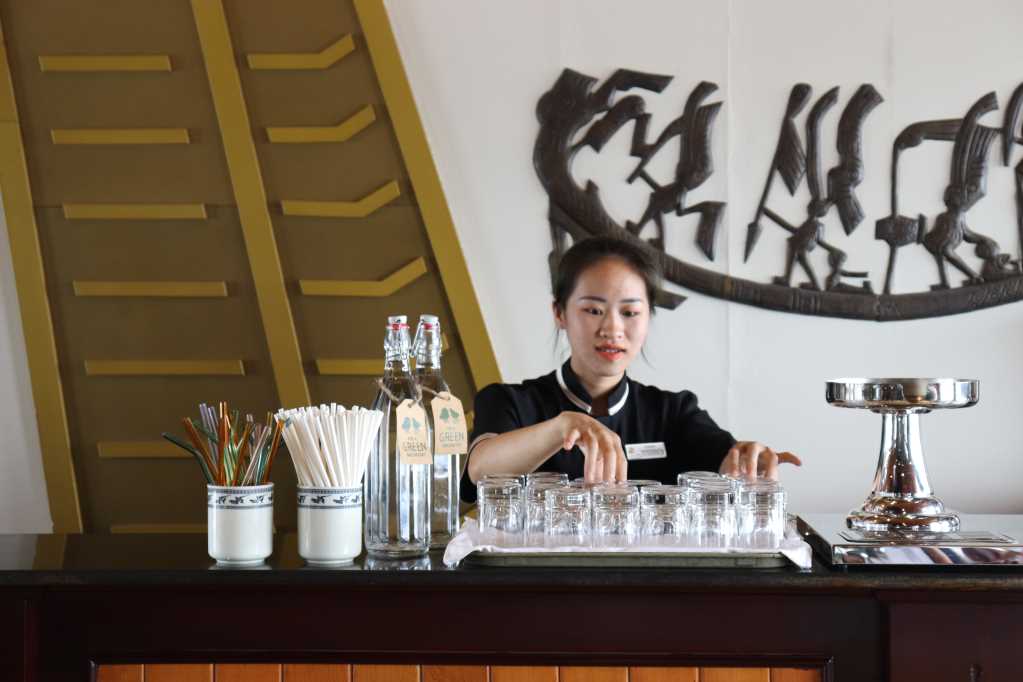 In particular, over the past 10 years, Ha Long City has actively implemented the campaign "Building Ha Long – a smoke-free tourism city". No-smoking signs in many languages such as Vietnamese, English, and Chinese are posted at convenient points for tourists in markets, shopping centres, hotels, and international passenger ports, cruise ships, and even in caves in Ha Long Bay.
After 10 years, Ha Long city implemented the project "Building Ha Long - A smoke-free tourist city". According to a survey by the City Health Department, in 2009, only 49.5% of people in the city understood and voluntarily implemented tobacco harm prevention, then in 2018 this number increased up to over 80%.
This campaign has created a good impression on domestic and international tourists coming to Ha Long. Ms. Pham Thuy (Nam Tu Liem District, Hanoi) shared: "In recent years, my family has gone to Quang Ninh every year because of the beautiful landscape, many entertainment spots and very fresh sea air. What I like best is that when I go to restaurants and cafes, I don't have to look for a place that is not affected by cigarette smoke. Maybe because there are no-smoking signs everywhere, customers entering the shop are more aware."
In 2018, Ha Long City of Quang Ninh Province and Hoi An City of Quang Nam Province enjoyed being the two Vietnamese tourist cities honoured by the Smoke-free Cities ASEAN Network (SCAN).
As the country's leading place associated with border tourism products, the border city of Mong Cai has made efforts in recent years to develop a green, clean, and civilised "smokeless industry".
The Mong Cai Tourism Development Project to 2025, with an orientation to 2030, has been approved by the City People's Committee (Decision No. 2255/QD-UBND dated April 7, 2022). It defines the goal of striving to make Mong Cai a green, smart, friendly, and safe tourist city, through measures to attract strategic investors, large-scale, synchronous, and modern investment in the field of tourism and services.
Coming to Mong Cai today, domestic and foreign tourists love to explore and experience places such as Tra Co Beach, Tra Co Church, Xa Tac Temple, the Sa Vi border promotion information cluster project, Mong Cai International Border Gate, Tran Phu Walking Street, and the central market, which all impress visitors with their cleanliness, beauty, and order.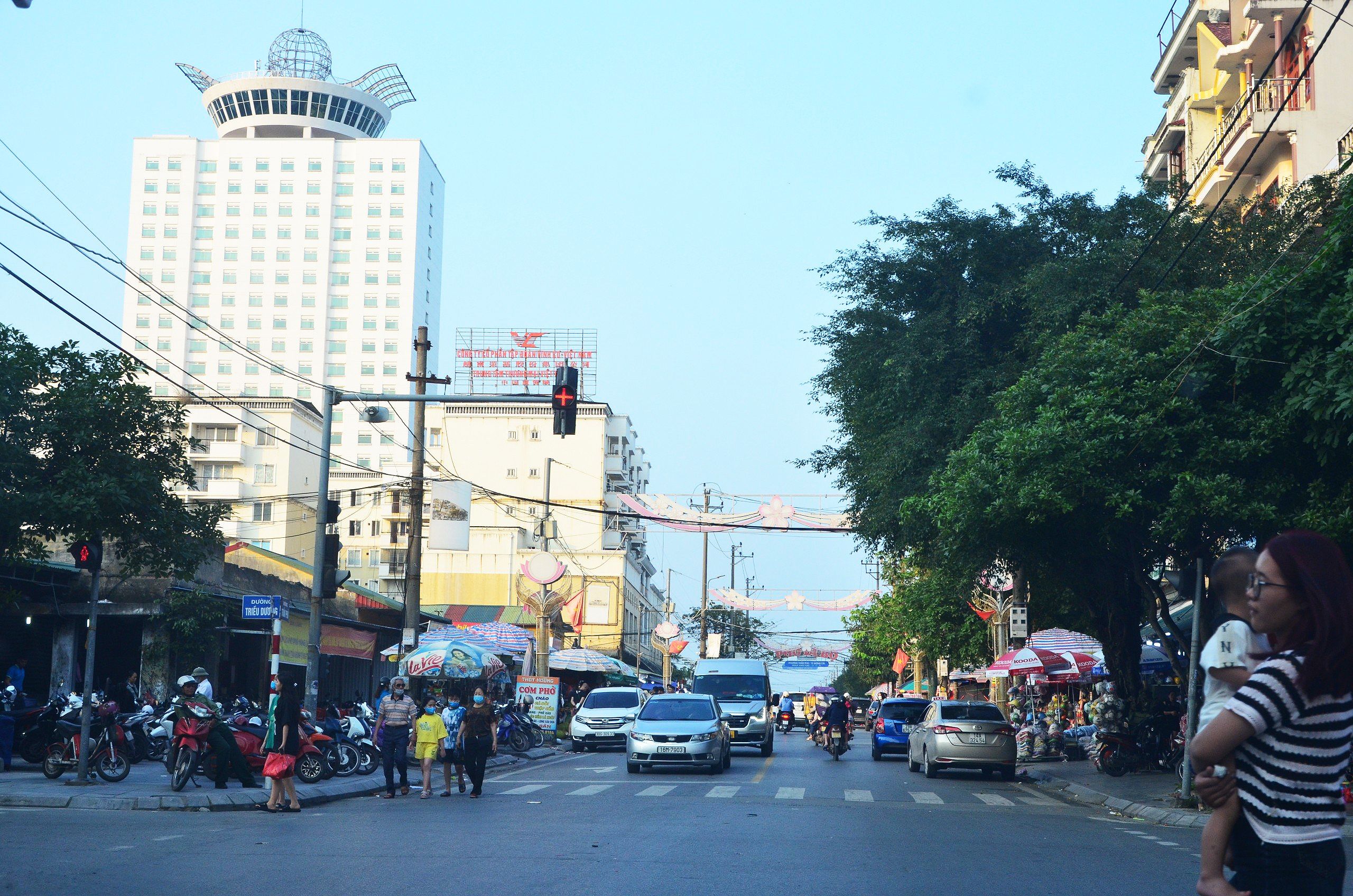 In March 2023, Mong Cai introduced to serve tourists the Nhat Vuong experiential eco-tourism product (address at Village 13, Hai Xuan Commune). The farm includes many subdivisions such as: Animal subdivision, organic orchard, team building experience subdivision, fishing, boating, practical experience of egg picking, fruit picking...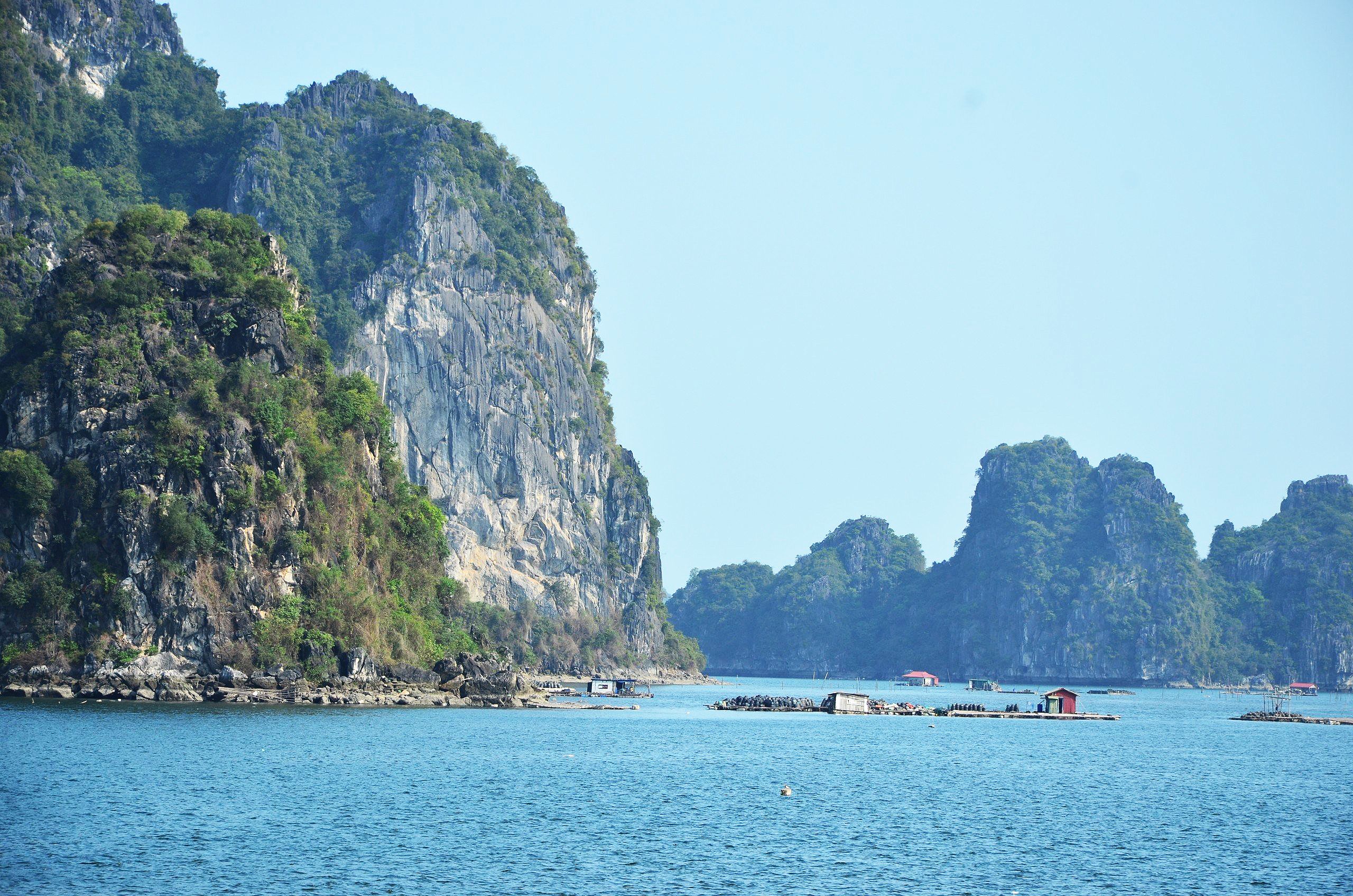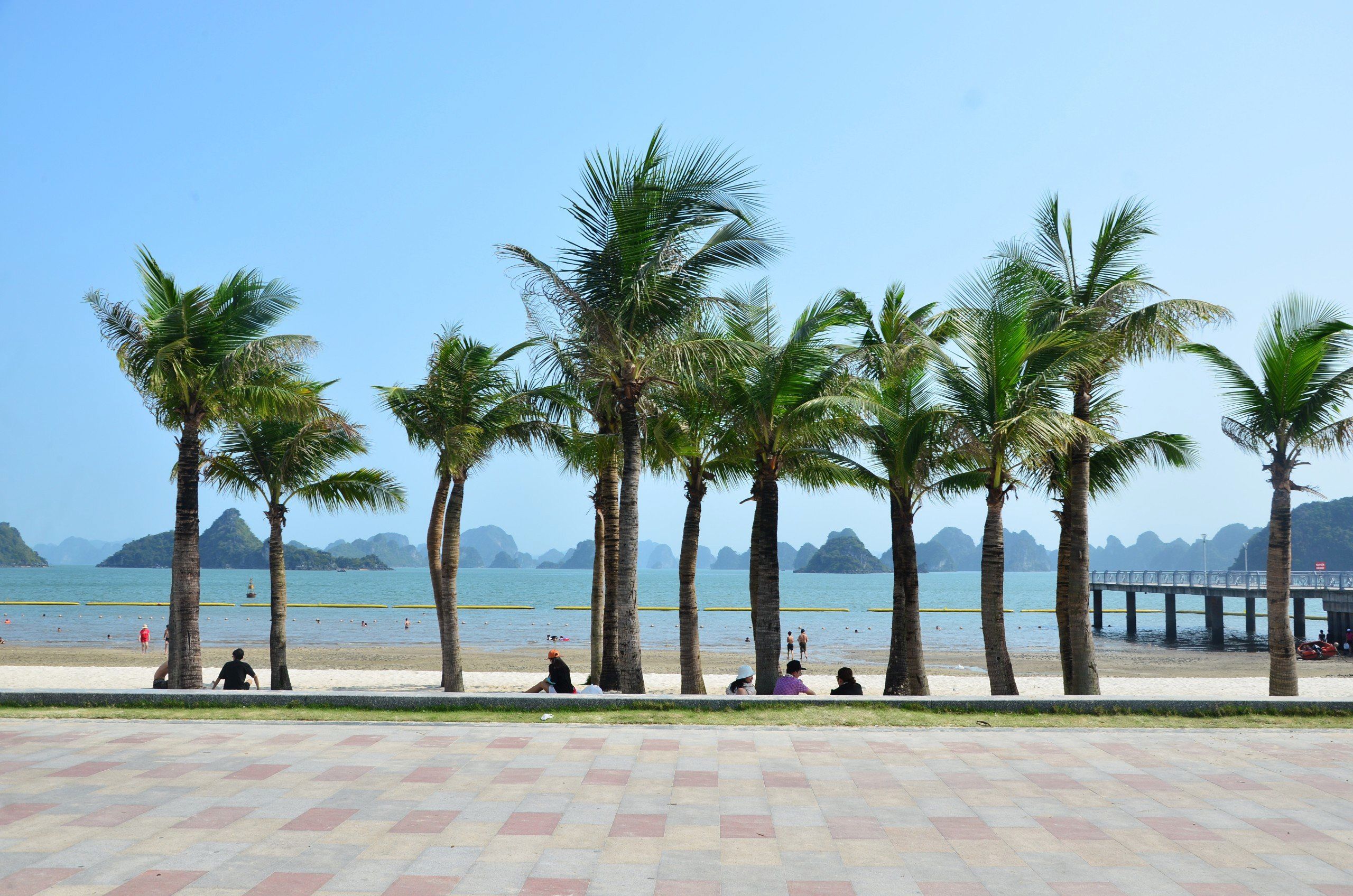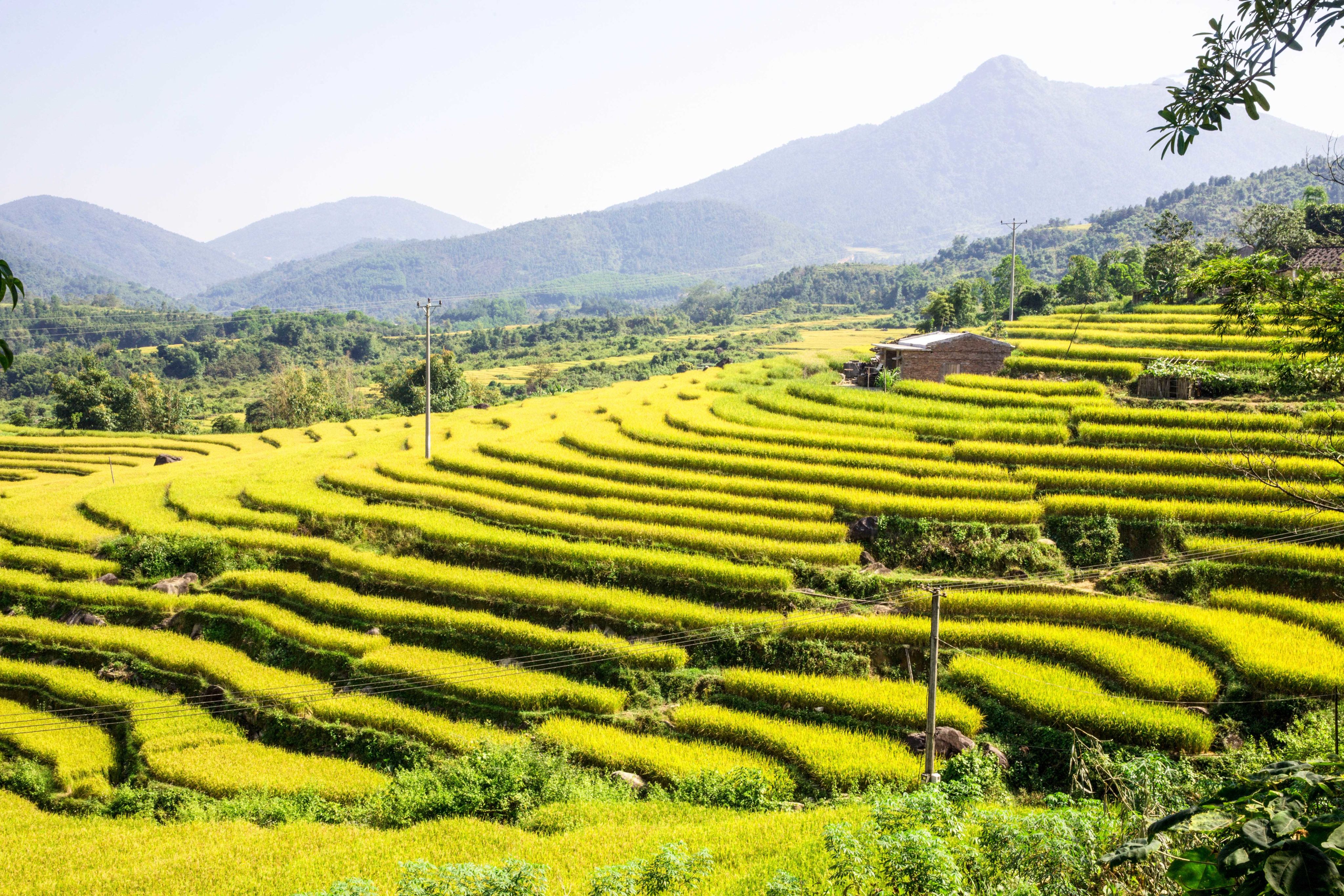 Keeping pace with the trend of sustainable tourism, tourism associated with culture, and eco-tourism after COVID-19, on June 21, 2023, the People's Committee of Quang Ninh province issued a pilot plan for construction, conservation, and development of the cultural identity values of 4 ethnic minority villages associated with community tourism development in the mountainous area of Quang Ninh Province for 2023-2025 period.
The plan aims to build a model of village community organisation with space and daily activities bearing the typical cultural nuances of an ethnic minority (Tay/ Dao/ San Diu/ San Chi) associated with building advanced new rural areas.
According to the plan, in the 2023-2025 period, Quang Ninh Province will pilot the construction of 4 ethnic minority villages in 3 localities of Binh Lieu, Van Don, and Mong Cai:
1. Dao village in Po Hen Village, Hai Son Commune, Mong Cai City
2. Tay ethnic village in Ban Cau Village, Luc Hon Commune, Binh Lieu District
3. San Diu ethnic village in Vong Tre Village, Binh Dan Commune, Van Don District
4. San Chi ethnic village (San Chay) in Luc Ngu Village, Huc Dong Commune, Binh Lieu District.
The Quang Ninh Department of Tourism said that despite achieving encouraging results, building a sustainable green tourism is a persistent process. Determining this, Quang Ninh tourism industry has been making continuous efforts from local authorities, business community, and people to create a green tourism environment with practical, outstanding actions starting from the smallest actions. The whole province is also applying advanced technologies, using renewable energy, clean fuel, recycled materials, and saving energy; and carrying out environmentally responsible tourism activities...
Published: October 2023
Content: NDO
Design: Bao Minh
Photo: Hai Binh, Quang Ninh Newspaper, Binh Lieu Travel